Hippeutis complanatus (Linnaeus 1758) Flat ramshorn
Click on the thumbnails to enlarge the images
© Dr Roy Anderson
© Dr Roy Anderson
Map hosted by the National Biodiversity Data Centre, Waterford
To view the species profile on Biodiversity Maps and access the live map, please click on the map.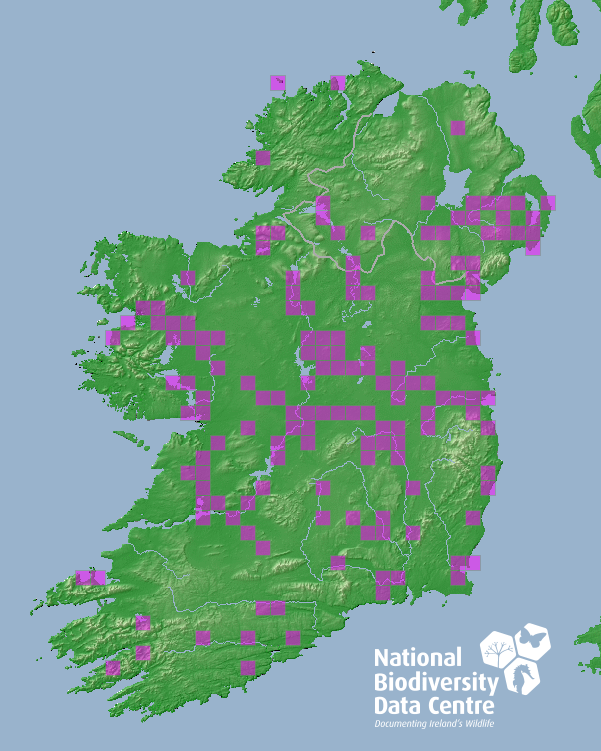 Shell a flattened, compressed coil with angulate periphery i.e. lens-shaped. Surface smooth, glossy. Body whorl deep with large aperture strongly angled in the middle and constricted by the convexity of the previous whorl.
Key characteristics
A glossy, flattened, lens-shaped shell
Periphery angled and body whorl angled in the middle
Lower and upper surfaces equally convex
Umbilicus wide and shallow
Size
3-5 mm.
World Distribution
Found across central and northern Europe to western Siberia. Distribution type: Eurosiberian Wide-temperate (64).
Irish Distribution
Fairly common across the central plain but rare towards the west and north.
Ecology
Most records are for clear, weedy habitats in waters of moderate hardness
There are relatively few recent records and it may be in decline in some areas e.g. north-eastern counties
Red List status
Wikipedia link
Wikipedia page for Hippeutis complanatus
Anderson, R., (2016). Hippeutis complanatus (Linnaeus 1758). [In] MolluscIreland.
http://www.habitas.org.uk/molluscireland/species.asp?ID=93 Accessed on 2018-07-20.