Helicigona lapicida (Linnaeus 1758) Lapidary snail
Map hosted by the National Biodiversity Data Centre, Waterford
To view the species profile on Biodiversity Maps and access the live map, please click on the map.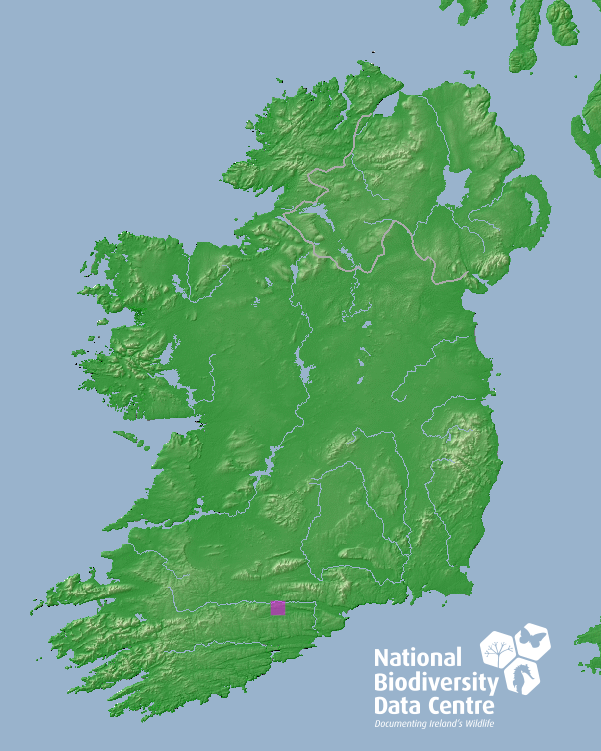 Shell moderately large, flattened both above and below and very sharply keeled at the periphery. On the upper side with 5½ very flattened whorls with shallow sutures. Aperture elliptical and notched at the keel. Umbilicus wide and deep. Surface opaque, dull, mid brown with a pattern of darker radial blotches and with a distinctive granular microsculpture giving a shagreened effect. Regionally extinct
Key characteristics
A moderately large, flattened, dull brown-black shell
Flattened both above and below with a sharply keeled periphery
Surface dull and with a granular microsculpture making it appear shagreened
Aperture elliptical and notched where it meets the keel
Umbilicus wide and deep
Size
15-20 mm.
World Distribution
Found across western Europe from southern Scandinavia to the western Mediterranean. Distribution type: Suboceanic Southern Temperate (72).
Irish Distribution
Known in Ireland only from limestone bluffs in the gorge of the River Blackwater at Carrick-a-Brick Castle near Fermoy, East Cork (Phillips, 1914). Its status as a native is questionable according to Kerney (1972), who failed to find living material during a visit to the site in 1971. Live specimens have not been found in recent times.
Ecology
In Britain the lapidary snail is known mostly from limestone rocks and quarries
Elsewhere mainly in hedgerows and woods on well-drained, chalky soils
A declining species also in Britain
Red List status
Wikipedia link
Wikipedia page for Helicigona lapicida
Anderson, R., (2016). Helicigona lapicida (Linnaeus 1758). [In] MolluscIreland.
http://www.habitas.org.uk/molluscireland/species.asp?ID=92 Accessed on 2018-09-24.