Gyraulus (Armiger) crista (Linnaeus 1758) Nautilus ramshorn
Map hosted by the National Biodiversity Data Centre, Waterford
To view the species profile on Biodiversity Maps and access the live map, please click on the map.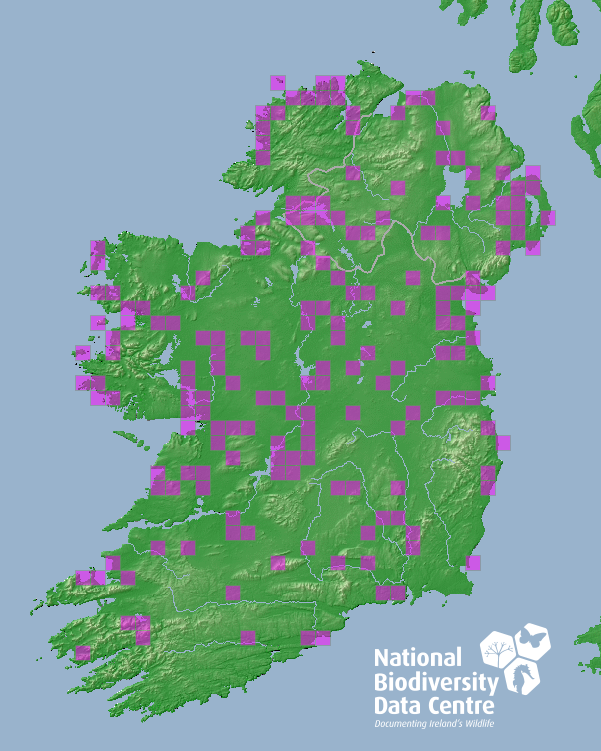 A tiny loosely coiled shell with body whorl below the rest to create a flat spire. Whorls are traversed by radial ridges which may form conspicuous narrow keels at regular intervals. Surface pale brown, glossy but often covered with deposits. Widespread.
Key characteristics
A tiny loosely coiled shell with a low, flat spire
Whorls convex with weak to very strong and regular radial ridges
The ridges may form points on the periphery creating narrow keels
Shell surface smooth, brown, slightly glossy but usually obscured by deposits
Body whorl bluntly margined below, mouth oval to slightly angular
(Technically it has always been difficult with planorbids to decide whether the raised whorls form a spire or an umbilicus! In these accounts the raised part is called (commonsensically) a spire even even though most experts regard it as an umbilicus)
Size
2-3 mm.
World Distribution
Spread across the northern part of the whole northern hemisphere. Distribution type: Circumpolar Wide-temperate (66).
Irish Distribution
Very widespread and locally common but much under-recorded because of its size.
Ecology
A species of clear, weedy conditions in still water habitats
Common in medium to very small habitats including sluggish streams, drains and marsh or fen pools
Occasionally found in very acid waters
Habitat size appears to be little impediment to this species - a thriving colony lives in a tiny ornamental pool (3m across) at the Lion's Gate, Mussenden Temple on the north Londonderry coast in water at best 2-3cm deep
Red List status
Wikipedia link
Wikipedia page for Gyraulus crista
Anderson, R., (2016). Gyraulus (Armiger) crista (Linnaeus 1758). [In] MolluscIreland.
http://www.habitas.org.uk/molluscireland/species.asp?ID=87 Accessed on 2018-07-19.