Euconulus (Euconulus) cf. fulvus (O. F. Müller 1774)
Map hosted by the National Biodiversity Data Centre, Waterford
To view the species profile on Biodiversity Maps and access the live map, please click on the map.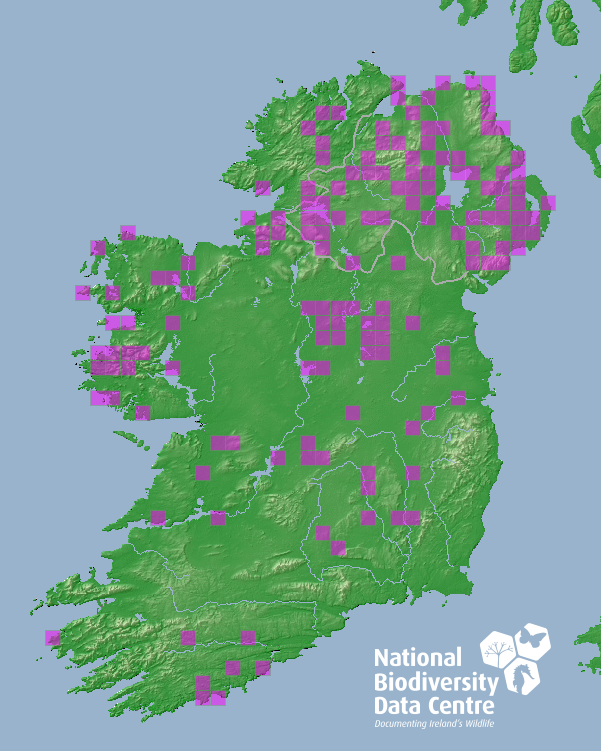 A slightly larger shell than Euconulus cf. alderi and paler, less glossy, almost silky. Spiral striae on the base are faint. Animal usually pale grey. Found in a variety of habitats but mainly woods.
Key characteristics
A small top-shaped, yellow-brown shell
Surface dull, silky
Animal grey, sometimes dark on the back but never on the mantle (i.e. showing through the shell)
Size larger on average than E. cf. alderi
Size
2.8-3.5 mm.
World Distribution
Found throughout Europe north to the Arctic Circle and eastwards through Eurasia to the Pacific. Also in North America. Distribution type: Circumpolar Wide-temperate (66).
Irish Distribution
Ubiquitous in damp, sheltered places across the island.
Ecology
Prefers shaded places and tends to occur mainly in woodland, where it lives on fallen twigs and in leaf litter
A range of habitats may be occupied, from fairly wet to dry and from calcareous to distinctly acid, as under conifers
Less common in open habitats but occurs occasionally in fens and marshes with E. cf. alderi
Taxonomy
See under Euconulus cf. alderi.
Red List status
Wikipedia link
Wikipedia page for Euconulus fulvus
Anderson, R., (2016). Euconulus (Euconulus) cf. fulvus (O. F. Müller 1774). [In] MolluscIreland.
http://www.habitas.org.uk/molluscireland/species.asp?ID=83 Accessed on 2018-09-26.