Euconulus (Euconulus) cf. alderi (J. E. Gray 1840)
Map hosted by the National Biodiversity Data Centre, Waterford
To view the species profile on Biodiversity Maps and access the live map, please click on the map.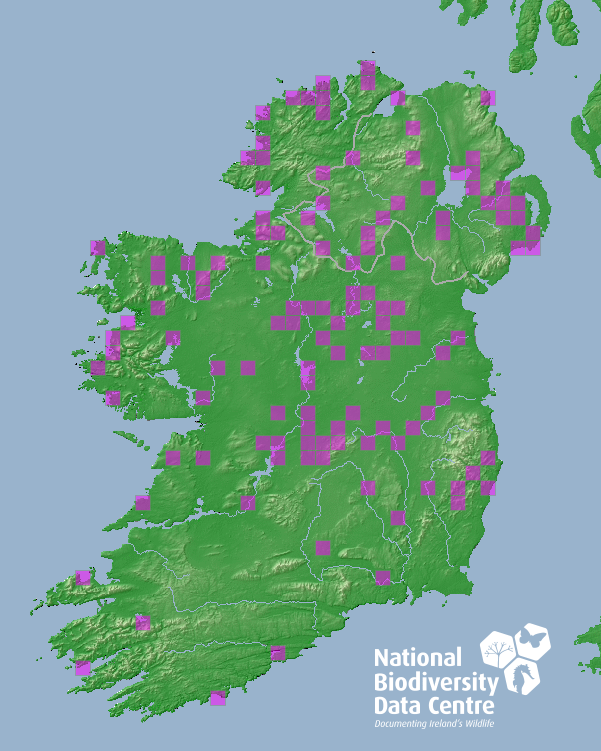 A squatly conical little shell of 5 or so whorls. Smaller than E. cf. fulvus with a darker, more brownish and glossy shell. Spiral striae on the base are more distinct at high magnification. Animal invariable darker, almost black in some cases. Found in richer wetlands.
Key characteristics
A small, top-shaped shell of 5 whorls
Shell glossy and darker, more brownish than the closely related E. cf. fulvus
Animal dark with dark mantle showing through the shell
Base of shell with distinct spiral striae visible at X20 or above
Size
2.3-2.8 mm.
World Distribution
Probably very similar to that of E. cf. fulvus. Distribution type: Circumpolar Wide-temperate (66). I
Irish Distribution
Widespread but rather sparsely recorded, in wet habitats.
Ecology
Found exclusively in wet, open habitats
May be common in fens, rich marshes, callows, dune slacks and lakeshore floodplains
Favours transition mires in northern counties
Taxonomy
Falkner et al. (2001), in what they describe as the preliminary phase of a revision of European Euconulus (Falkner et al. 2002), list three taxa for Britain and Ireland, E. fulvus; E. trochiformis (Montagu 1803), and E. praticola (Reinhardt 1883). Euconulus trochiformis is claimed as a senior synonym of E. alderi and therefore replaces that name, and E. praticola represents a third taxon probably equivalent to what we refer to here as E. cf. alderi. There are several problems with these proposals including what to make of E. trochiformis which is hard to recognise in British material. Because of this the familiar names are retained but with a conditional stance i.e. cf. fulvus and cf. alderi, until further clarification is forthcoming.
Red List status
Wikipedia link
Wikipedia page for Euconulus alderi
Anderson, R., (2016). Euconulus (Euconulus) cf. alderi (J. E. Gray 1840). [In] MolluscIreland.
http://www.habitas.org.uk/molluscireland/species.asp?ID=82 Accessed on 2020-02-20.