Dreissena (Dreissena) polymorpha (Pallas 1771) Zebra Mussel
Click on the thumbnails to enlarge the images
© Dr Roy Anderson
© Dr Roy Anderson
Map hosted by the National Biodiversity Data Centre, Waterford
To view the species profile on Biodiversity Maps and access the live map, please click on the map.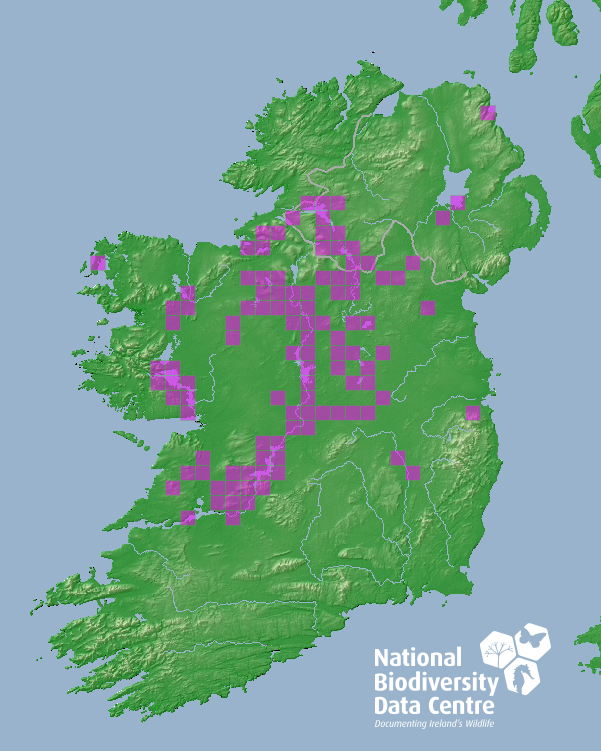 This bivalve species has a a typical 'mussel' shape with rather elongate shell and sharp umbos. Surface dull to silky, relatively smooth and coloured yellowish with darker, zig-zag concentric green or grey bands. Alien and invasive in Ireland.
Key characteristics
An elongate 'mussel' shaped shell
The umbos are downturned and sharp
Periostracum relatively smooth and slightly glossy, coloured yellowish with zig-zag concentric green and grey bands
Attached to hard substrates by strong byssus threads
Size
25-40 mm.
World Distribution
The natural range of this species is Ponto-Caspian but it has been widely spread throughout Europe by human agency within the last two centuries. It was first reported in England in 1824 (Commercial Docks, London), and by the middle of the eighteenth century had spread to the limits of the canal system. It is now established and invasive in the Great Lakes of North America, having been introduced with ship's ballast.
Irish Distribution
The zebra mussel's advance westwards in the British Isles petered out in the nineteenth century and was only revived by its discovery in the Shannon System in 1994. It is now widespread in the lower Shannon (McCarthy et al., 1997) and more recently has appeared in the Erne system (Rosell et al., 1999) where in a handful of years it has become widespread the length of both the Upper and Lower Loughs. The re-opening of the Shannon-Erne (Ballyconnell) Canal has been partially responsible for this but in addition there is evidence of overland transport on boats' hulls to a locality in Lower Lough Erne (Rosell et al., 1999). More recently, it has appeared in Lough Neagh.
Ecology
This invasive species requires hard substrates to settle on and will colonise the hulls of pleasure craft which is how it is easily transported large distances (Rosell et al., 1999)
Prefers still or slow-moving water in larger water bodies
In the absence of a natural hard bottom will colonise the shells of living Anodonta immersed in soft sediments and may eventually choke and kill the larger bivalves
The large filtration capacity of colonies may temporarily clear turbid waters by filtering out algae
Red List status
Wikipedia link
Wikipedia page for Dreissena polymorpha
Anderson, R., (2016). Dreissena (Dreissena) polymorpha (Pallas 1771). [In] MolluscIreland.
http://www.habitas.org.uk/molluscireland/species.asp?ID=76 Accessed on 2018-09-23.