Discus (Gonyodiscus) rotundatus (O. F. Müller 1774) Rounded Snail
Map hosted by the National Biodiversity Data Centre, Waterford
To view the species profile on Biodiversity Maps and access the live map, please click on the map.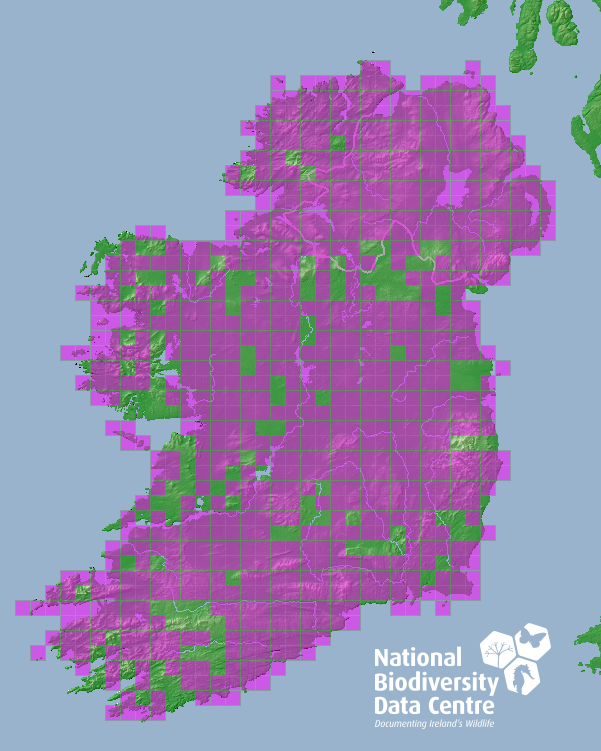 Shell a very low, depressed cone of up to 6 whorls with very wide and deep umbilicus. Pale brown with distinctive darker red-brown radial stripes. Surface marked by regular, strong radial ribs. Mouth oval, periphery shouldered. Very common.
Key characteristics
Shell a very depressed, broad cone
Coloured pale brown with distinctive red-brown radial stripes although these can sometimes be faint or missing
Surface dull with strong, regular radial ribs
Shell margin slightly shouldered
Umbilicus very wide and deep
Size
6-7 mm wide.
World Distribution
Found across northern and central Europe to the Mediteranean where it is spreading by human agency Distribution type: European Wide-temperate (63).
Irish Distribution
Probably the commonest shelled mollusc in Ireland, followed closely by Cochlicopa lubrica.
Ecology
Ubiquitous in hedgerows or any kind of man-altered terrain and in woods
Rare on nutrient poor (dystrophic) soils and rocks
Nevertheless, sometimes seen in lagg woodland around the edges of raised bog and often on agriculturally enriched former peatlands
Red List status
Wikipedia link
Wikipedia page for Discus rotundatus
Anderson, R., (2016). Discus (Gonyodiscus) rotundatus (O. F. Müller 1774). [In] MolluscIreland.
http://www.habitas.org.uk/molluscireland/species.asp?ID=75 Accessed on 2020-08-10.