Deroceras (Deroceras) agreste (Linnaeus 1758) Northern field slug
Click on the thumbnails to enlarge the images
© Dr Roy Anderson
© Dr Roy Anderson
Map hosted by the National Biodiversity Data Centre, Waterford
To view the species profile on Biodiversity Maps and access the live map, please click on the map.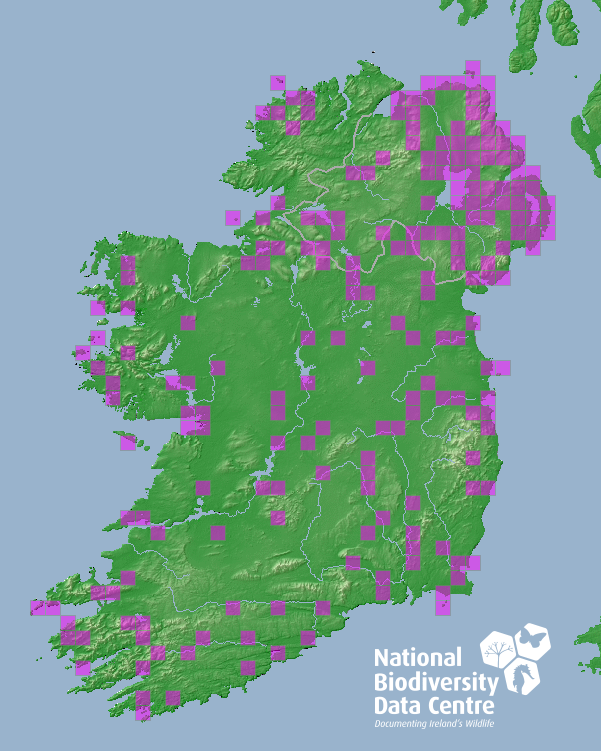 A small to medium-sized field slug with a uniformly oatmeal-coloured body lacking darker spots. Mucus clear but milky when irritated. Indistinguishable externally from pale specimens of the very common grey field slug, though much rarer.
Key characteristics
A small to medium-sized buff or oatmeal-coloured slug without dark spots, although the grooves on the back, being slightly darker than the underlying ground colour, may give the appearance of diffuse spots
Mucus colourless but milky when irritated
Sole buff
Keel short, not truncate
Breathing pore towards the rear of the mantle
Differs from the grey field slug in the structure of the penial appendix
Size
25-40 mm.
World Distribution
Distributed across most of northern and western Europe into north and central Siberia. Distribution type: Eurosiberian Boreo-temperate (54).
Irish Distribution
A very rare and local slug in Ireland with only a single site, Buckroney Sands, Brittas Bay, Co. Wicklow, so far identified (Anderson, 2006). Very possibly overlooked because of difficulties in separating it from the grey field slug.
Ecology
The site at Buckroney is on the banks of a small stream running through grazed sand dunes with some scrub woodland
In Britain sites are mostly on high ground, although in East Anglia and parts of Cumbria it occurs on marshy ground by streams and fen drains at relatively low altitude
Red List status
Wikipedia link
Wikipedia page for Deroceras agreste
Anderson, R., (2016). Deroceras (Deroceras) agreste (Linnaeus 1758) . [In] MolluscIreland.
http://www.habitas.org.uk/molluscireland/species.asp?ID=71 Accessed on 2019-06-25.