Cochlicopa cf. lubricella (Rossmässler 1834) Lesser moss snail
Map hosted by the National Biodiversity Data Centre, Waterford
To view the species profile on Biodiversity Maps and access the live map, please click on the map.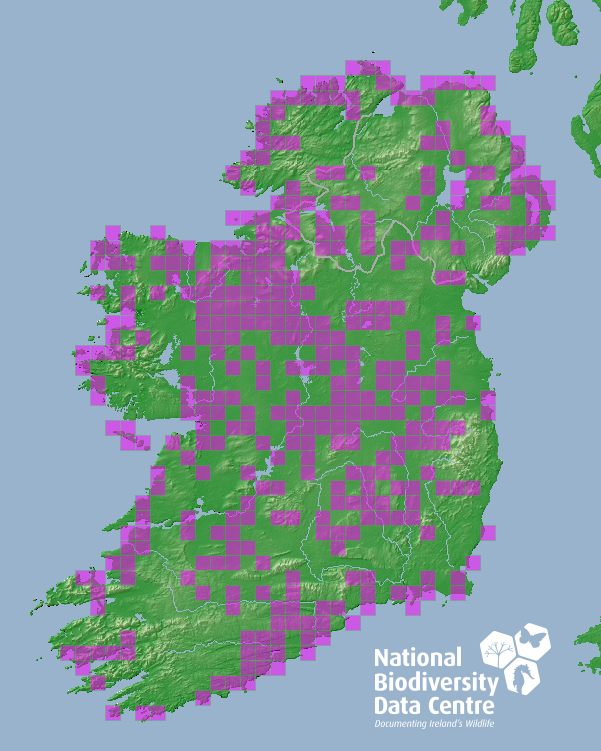 Very similar to C. lubrica but smaller and more slender with relatively flattened whorls and shallower sutures. Colour more often whitish, slightly duller and less glossy.
Key characteristics
A small, moderately shining, pale brown shell often with whitish patches
Smooth but not so slippery as C. lubrica
Shell relatively narrow with flatter whorls and shallower sutures than C. lubrica
Size
4.5-6.7 mm.
World Distribution
As for Cochlicopa lubrica. Distribution type: Circumpolar Wide Temperate (66).
Irish Distribution
Widespread and probably not uncommon, but much more associated with dry or base-rich habitats than C. lubrica. In northern and western areas mainly near or on the coast.
Ecology
This morphospecies (see comments on taxonomy) is more restricted to dry, warm habitats that C. lubrica
Mainly in dry pastures in limestone areas and in sand dunes on the coast
Taxonomy
A very similar shell but narrower and smaller than C. lubrica with which it appears to intergrade morphologically in places. It is therefore interesting that it can exist in central Europe as two distinct morphotypes, one narrow and small, the other larger and more globular like C. lubrica. (Armbruster, 1997). This makes separation of the species uncertain for field malacologists, hence the use of the term 'cf.' in their names.
Red List status
Wikipedia link
Wikipedia page for Cochlicopa lubricella
Anderson, R., (2016). Cochlicopa cf. lubricella (Rossmässler 1834). [In] MolluscIreland.
http://www.habitas.org.uk/molluscireland/species.asp?ID=65 Accessed on 2018-08-21.