Cochlicopa cf. lubrica (O. F. Müller 1774) Slippery or moss snail
Map hosted by the National Biodiversity Data Centre, Waterford
To view the species profile on Biodiversity Maps and access the live map, please click on the map.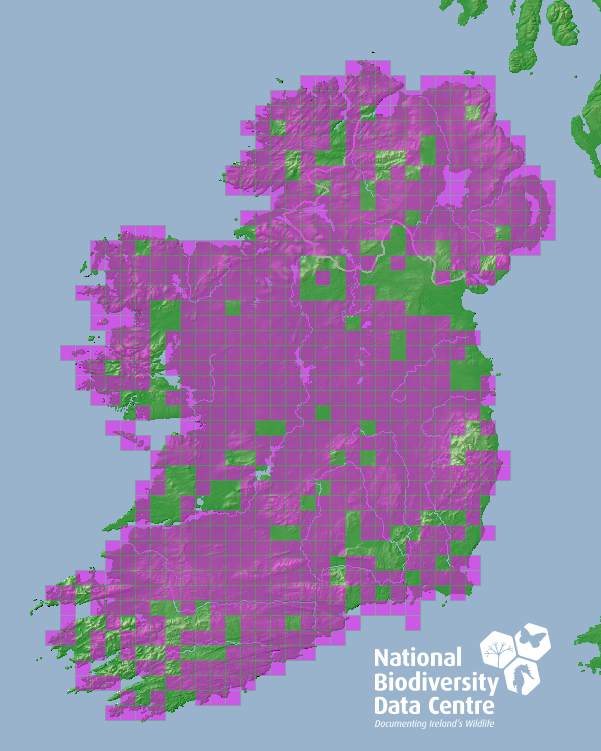 A shining barrel-shaped, golden-brown to brown shell. Extremely glossy and smooth and slippery in the hand. Relatively broad with convex whorls and deep sutures. Ubquitous in moss and litter up to moderate altitudes.
Key characteristics
A small shining, golden-brown shell
Slippery and smooth
Overall shape broad, with convex whorls and moderately deep sutures
Size
5.5-7 mm.
World Distribution
Found throughout Europe and across Siberia to the Pacific and south to China. Also in northern North America. Distribution type: Circumpolar Wide Temperate (66).
Irish Distribution
Fairly ubiquitous except for high ground or areas of deep peat.
Ecology
Its English name, the moss snail, describes its usual niche
Common in hedgerows, woods, rough pasture and waste places
In peatlands, mainly around the margins but readily colonises sites of former habitation which have lime mortar constructed walls
Red List status
Wikipedia link
Wikipedia page for Cochlicopa lubrica
Anderson, R., (2016). Cochlicopa cf. lubrica (O. F. Müller 1774). [In] MolluscIreland.
http://www.habitas.org.uk/molluscireland/species.asp?ID=64 Accessed on 2018-07-16.