Click on the thumbnails to enlarge the images
© Dr Roy Anderson
© Dr Roy Anderson
Map hosted by the National Biodiversity Data Centre, Waterford
To view the species profile on Biodiversity Maps and access the live map, please click on the map.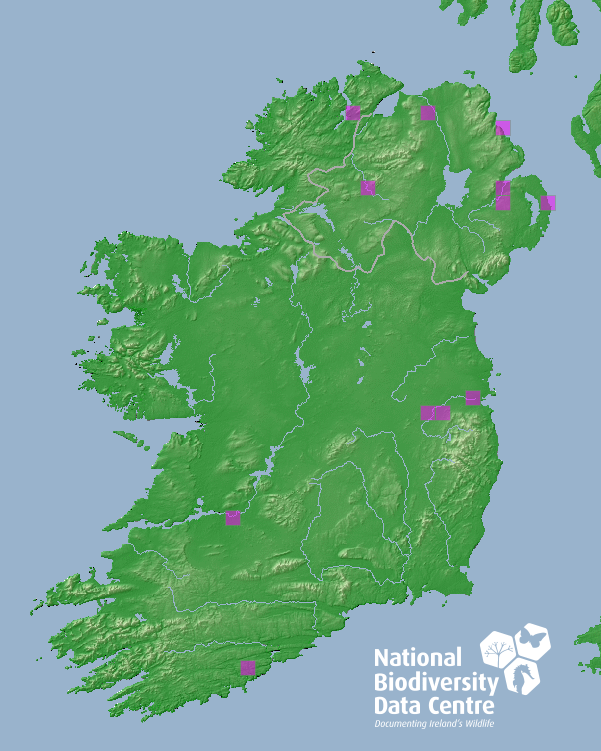 A small, sinistral and sharp-spired shell. The animal is grey to almost black but lacks the whitish spots typical of P. gyrina, the other introduction from North America. Both species are very variable but in general P. gyrina has a blunter spire with flatter whorls and shallower sutures whereas P. acuta has distinctly deeper sutures and a sharper spire. Widespread but still local though spreading rapidly since its discovery in Ireland in 2000.
Key characteristics
A small, sinistral and sharp spired shell - the familiar bladder snail of tropical aquaria
Shell translucent and glossy but less fragile and slippery than the native Physa fontinalis
Whorls moderately convex with fairly deep sutures
Spire sharp
Animal unspotted light to dark grey with the mantle covering very little of the shell and with fewer digitations than Physa fontinalis
Size
9-14 mm.
World Distribution
Now regarded as a native of North America where it has been known under the name Physa heterostropha Say (a name reduced to synonymy with acuta - see Anderson (2005)). Recorded from most of Europe north to Germany and the British Isles. Introduced to Africa, Asia and Australia by human commerce.
Irish Distribution
Very common in both tropical and coldwater aquarium tanks and presumably now garden ponds. The first outdoor site to be identified in Ireland is Glastry Clay Pits near Cloughey in the Ards Peninsula, Co. Down. A substantial colony was discovered there on 19 February 2000 (Anderson, 2003). It has since been reported from the Grand and Royal Canals west of Dublin (Moorkens & Killeen, 2005), from a saltmarsh at Inch Island Lough Swilly (pers. comm. of G. A. Holyoak, 2002), from a tributary of the Shannon Estuary at Ballincurra, Limerick (R. Anderson 2008) and from the Lagan Canal at Newforge, Belfast (R. Anderson 2008). Still spreading.
Ecology
The familiar bladder snail of tropical aquaria is widespread outdoors in Britain and Europe in a range of (usually small) fresh and brackish-water habitats
Very tolerant of organic pollution and eutrophication
It also tolerates raised salinity and can occur in saltmarshes as the Lough Swilly record indicates
Taxonomy
Formerly regarded as a European native (Draparnaud, 1805; Germain, 1930; Turner et al., 1998), but now accepted as an early introduction from North America (Anderson, 1996; Anderson, 2005). Morphometric analysis (Anderson, 2003) and breeding experiments plus comparison of rDNA (Dillon et al., 2002) using the N. American P. heterostropha and P. acuta from the Glastry locality mentioned above have confirmed that these two are synonymous. Physella heterostropha was formerly listed as a species distinct from acuta and both were said to occur in the British Isles. Physella acuta was probably introduced to Europe via the French cotton trade with Louisiana. It was described by Draparnaud from the River Garonne near Bordeaux, principal port of the cotton trade, in 1805.
Red List status
Wikipedia link
Wikipedia page for Physella acuta
Anderson, R., (2016). Physella acuta (Draparnaud 1805). [In] MolluscIreland.
http://www.habitas.org.uk/molluscireland/species.asp?ID=58 Accessed on 2020-05-30.