Cepaea (Cepaea) hortensis (O. F. Müller 1774) White-lipped snail
Map hosted by the National Biodiversity Data Centre, Waterford
To view the species profile on Biodiversity Maps and access the live map, please click on the map.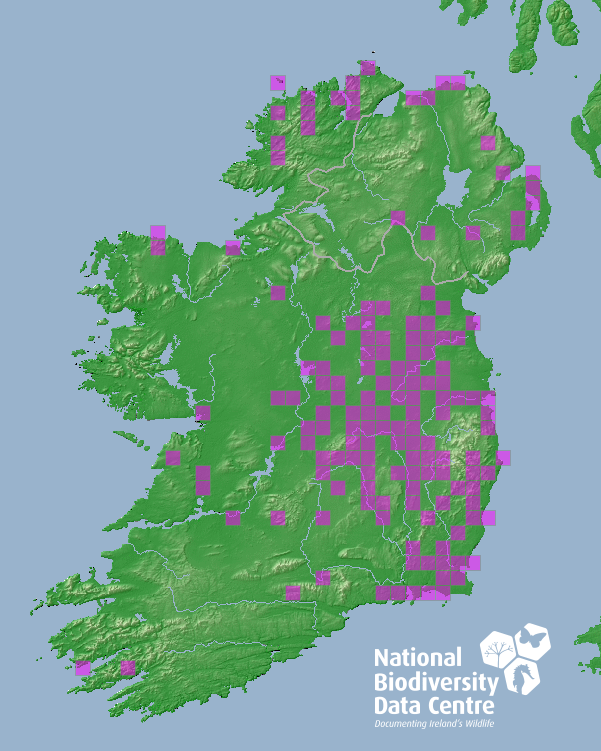 A similar shell to C. nemoralis but smaller and more globular. In Ireland the colours tend to be subject to less variation than in C. nemoralis and a yellow ground colour predominates with mid brown, often faint or interrupted, spiral bands. Apertural rib normally white, occasionally pale brown. Localised and mostly eastern in Ireland .
Key characteristics
A medium, glossy, globular shell
Colour varies less than in C. nemoralis and is mostly yellow to brown with up to five darker bands
Lip whitish to (rarely) light brown, never dark brown or black
Umbilicus closed
Differs internally from C. nemoralis
Size
15-20 mm.
World Distribution
Found across Europe to higher latitudes than C. nemoralis and across Siberia to Pacific coasts. Also in northern North America. Distribution type: Circumpolar Boreo-temperate (56).
Irish Distribution
Patchily distributed across Ireland (Kerney, 1999) and common only in some central and eastern counties.
Ecology
Kerney (1999) suggests that it prefers shadier and moister places than nemoralis in Britain
Such a distinction is not clear in Ireland although, unlike nemoralis, it does not favour coastal dunes
While hortensis has a Boreal-continental range more typical of xeric cold-adapted species, nemoralis has a markedly western range (Suboceanic Southern-temperate) and seems better adapted to equable, wet climates
On walls, in woodland edge habitats, scrub, disturbed places
Red List status
Wikipedia link
Wikipedia page for Cepaea hortensis
Anderson, R., (2016). Cepaea (Cepaea) hortensis (O. F. Müller 1774). [In] MolluscIreland.
http://www.habitas.org.uk/molluscireland/species.asp?ID=53 Accessed on 2018-09-19.