Cecilioides (Cecilioides) acicula (O. F. Müller 1774) Blind (or Agate) Snail
Map hosted by the National Biodiversity Data Centre, Waterford
To view the species profile on Biodiversity Maps and access the live map, please click on the map.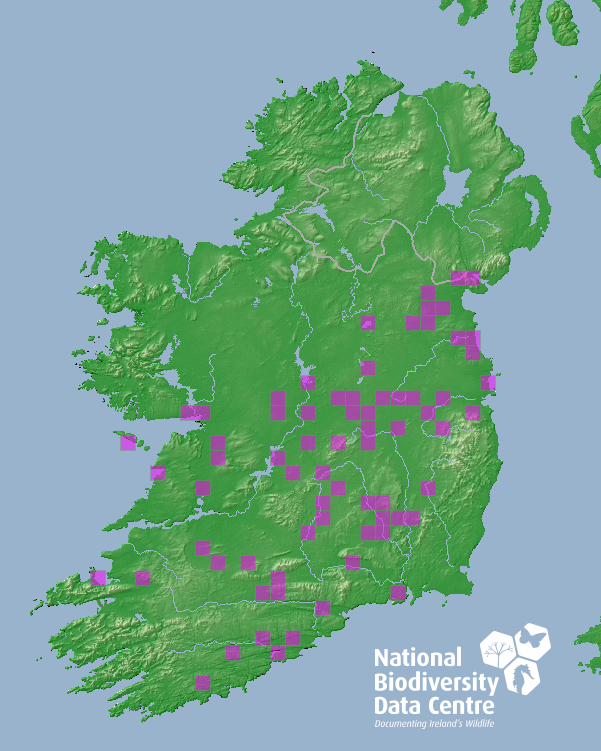 An awl-shaped, narrow and cylindrical shell of 5½ whorls. Aperture about one-third of total height, narrow. Surface smooth, glassy and transparent becoming whitish/opaque after death. Lives in the soil. Rarely seen.
Key characteristics
A small, awl-shaped shell of 5½ whorls
Long and narrow with a narrow aperture and blunt apex
Shell fragile, glassy and transparent
Turns whitish, opaque when old
Animal whitish
Size
4.5-5.5 mm.
World Distribution
Originally Mediterranean and probably an introduction in Ireland and western Europe generally. Current distribution type: Mediterranean Atlantic (91).
Irish Distribution
There is a wide scatter of old records in the southern half of Ireland within the area of Carboniferous limestone. Absent from the west and north although there is an isolated old record for Enniskillen, Co. Fermanagh (Kerney, 1968). Rarely reported nowadays.
Ecology
A soil-dwelling species preferring dry, warm, calcareous sites
Difficult to detect, at least in the living state, and probably under-recorded
Usually found under deeply embedded stones on calcareous soil of hedgebanks etc.
Red List status
Wikipedia link
Wikipedia page for Cecilioides acicula
Anderson, R., (2016). Cecilioides (Cecilioides) acicula (O. F. Müller 1774). [In] MolluscIreland.
http://www.habitas.org.uk/molluscireland/species.asp?ID=52 Accessed on 2018-07-19.