Carychium tridentatum (Risso 1826) Slender herald snail
Map hosted by the National Biodiversity Data Centre, Waterford
To view the species profile on Biodiversity Maps and access the live map, please click on the map.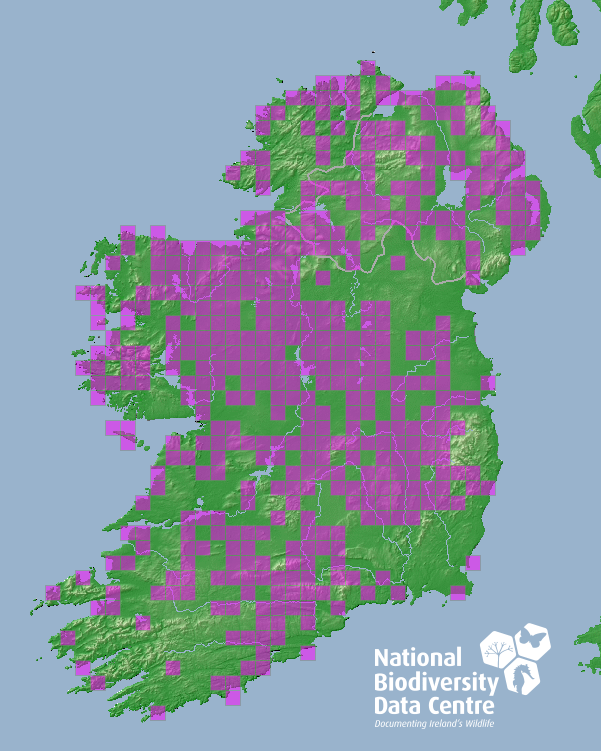 A tiny dull white shell with oval aperture ornamented with two denticles and a thickened lip produced into a small, inward-pointing knob in the middle. Spire relatively longer and body whorl narrower than in Carychium minimum. Mainly in woods but also in wet, open places.
Key characteristics
A tiny dull white, cylindrical shell
Main differences from Carychium minimum lie in the narrower body whorl and relatively tall spire
Internally, there is a sinuate lamella running around the columella, seen by breaking open the front of the shell above the aperture
Size
1.8-2.0 mm.
World Distribution
With a similar distribution to Carychium minimum but not in Siberia. Distribution type: European Boreo-temperate (53).
Irish Distribution
Widespread and frequent in all kinds of ancient broadleaf woodland. Also, at the margins of wetlands in the company of C. minimum.
Ecology
Found in deep, stable leaf litter in old woods, particularly under evergreens such as holly Ilex, but also under broadleafs with durable leaf litter such as beech Fagus
Like C. minimum can inhabit wet places outside woodland, usually in dense vegetation
Red List status
Wikipedia link
Wikipedia page for Carychium tridentatum
Anderson, R., (2016). Carychium tridentatum (Risso 1826). [In] MolluscIreland.
http://www.habitas.org.uk/molluscireland/species.asp?ID=51 Accessed on 2019-04-20.