Carychium minimum O. F. Müller 1774 Herald snail
Map hosted by the National Biodiversity Data Centre, Waterford
To view the species profile on Biodiversity Maps and access the live map, please click on the map.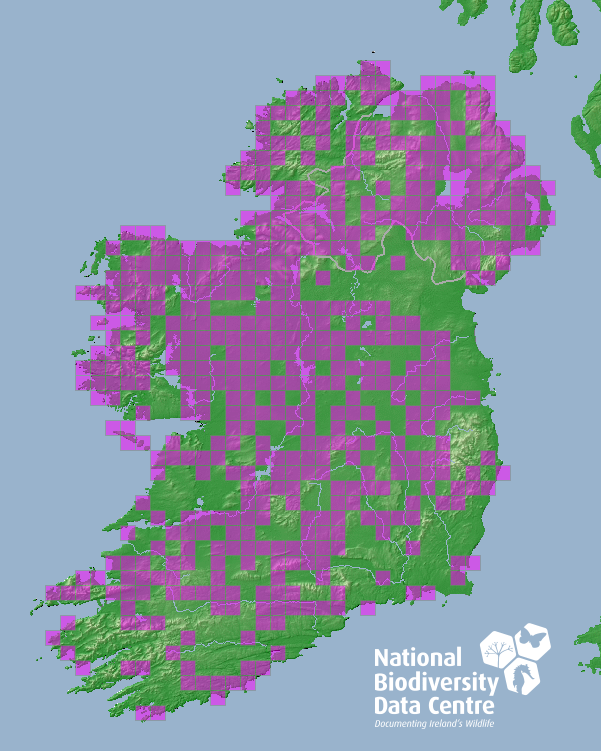 A tiny dull white shell with oval aperture ornamented with two denticles and a thickened lip produced into a small, inward-pointing knob in the middle. Spire relatively shorter and body whorl broader than in Carychium tridentatum. Widespread in wet places.
Key characteristics
A tiny dull white, cylindrical shell
Very similar to Carychium tridentatum but with a broader body whorl, a distinction which can be judged in the field, with practice
Mouth oval with two denticles and a thickened lip
Internally, the shell has a simple, thin lamella running around the columella, seen by breaking open the shell above the aperture
Size
1.6-1.9 mm.
World Distribution
Found across central and northern Europe into western Siberia. Distribution type: Eurosiberian Boreo-temperate (54).
Irish Distribution
Widespread and frequent throughout Ireland, except on peaty soils.
Ecology
Prefers wetland and carr habitats at elevations up to about 350m
Also occasinally in ancient woodlands with C. tridentatum - these species are good indicators of long established, minimally disturbed woods
Rarely occurs on peatlands except where base-rich flushes occur
Red List status
Wikipedia link
Wikipedia page for Carychium minimum
Anderson, R., (2016). Carychium minimum O. F. Müller 1774. [In] MolluscIreland.
http://www.habitas.org.uk/molluscireland/species.asp?ID=50 Accessed on 2019-04-25.