Aegopinella nitidula (Draparnaud 1805) Smooth glass snail
Click on the thumbnails to enlarge the images
© Dr Roy Anderson
© Dr Roy Anderson
Map hosted by the National Biodiversity Data Centre, Waterford
To view the species profile on Biodiversity Maps and access the live map, please click on the map.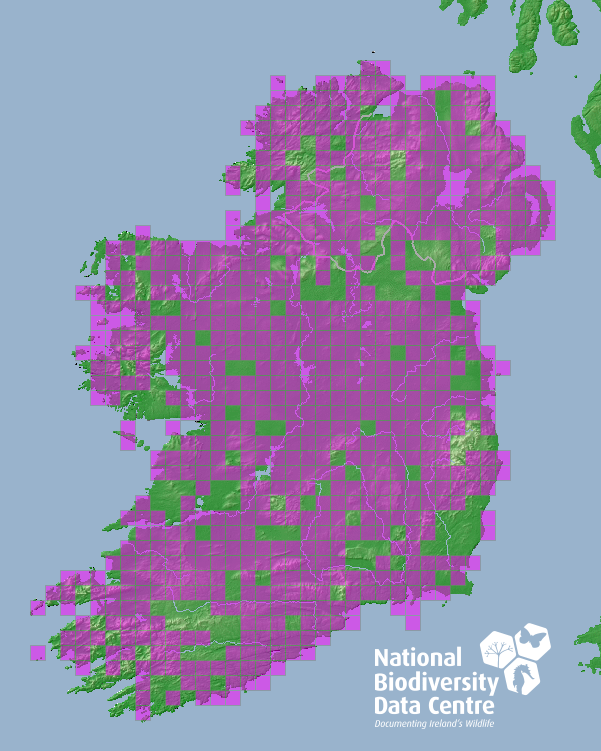 A medium-sized waxy, rather dull shell of 4½ moderately convex whorls with the last expanding strongly. Paler, whitish, beneath. Umbilicus wide. Common.
Key characteristics
A medium-sized, depressed, waxy shell
Whorls moderately convex with last expanding quickly - umbilicus deep
Colour red-brown to mid brown with paler, whitish flush on the underside and around the umbilicus
Shell duller and of a different colour than Oxychilus of the same size
Animal slate grey to deep blue-grey with mantle of a similar shade
Shell surface has regular radial growth lines but spiral striae weak
Size
8-10 mm.
World Distribution
Widespread in western Europe including the British Isles, Low Countries, N. Germany and southern Scandinavia. Distribution type: Oceanic Temperate (71).
Irish Distribution
Widespread and common.
Ecology
Commonest in woodland, less so where human disturbance is strong
Elsewhere in shaded or rocky places
In Ireland synanthropic only around abandoned crofts in very exposed or base-deficient terrain
Specimens with clear, greenish shells occur sporadically (var. helmi Alder)
Red List status
Wikipedia link
Wikipedia page for Aegopinella nitidula
Anderson, R., (2016). Aegopinella nitidula (Draparnaud 1805). [In] MolluscIreland.
http://www.habitas.org.uk/molluscireland/species.asp?ID=5 Accessed on 2018-09-26.