Bithynia (Codiella) leachii (Sheppard 1823) Leach
Click on the thumbnails to enlarge the images
© Dr Roy Anderson
© Dr Roy Anderson
Map hosted by the National Biodiversity Data Centre, Waterford
To view the species profile on Biodiversity Maps and access the live map, please click on the map.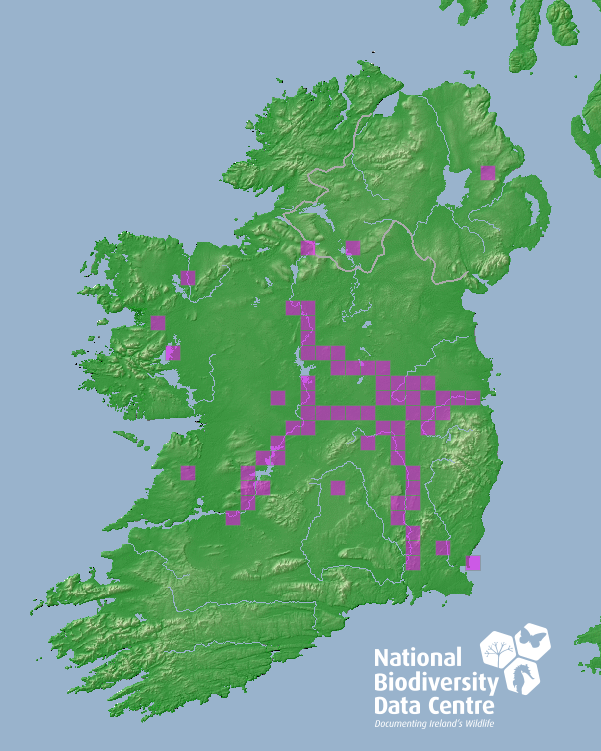 Like a small version of Bithynia tentaculata but the whorls are more convex and turreted and the sutures deeper. The aperture is a broad oval without a sharp point at the upper end. Found in calcareous streams and canals and occasionally in larger lakes. Possibly introduced in Ireland.
Key characteristics
Small, operculate shell forming a short cone
Sutures very deep and whorls convex
Spire shorter and less sharp than in Bithynia tentaculata
Aperture without a sharp point on the upper corner and operculum smoothly rounded
Size
5-7 mm.
World Distribution
Found throughout Europe except the Arctic fringe, and into eastern Siberia. Distribution type: Eurasian Wide Temperate (65).
Irish Distribution
This was added to the Irish List by Welch (1908) from the Grand Canal in Cos. Kildare, Leix and Dublin and then from the River Barrow in Cos. Carlow and Kilkenny. Subsequently found in the Royal Canal as far west as Longford and south along the River Shannon to Limerick (Kerney, 1999). More recently it has been found in the large Shannon lakes (pers. comm. of G. A. Holyoak) and there is a record for Upper Lough Erne in Fermanagh (Anderson, in press). The construction of the Ballyconnell Canal between the Shannon System and the Erne System has apparently allowed this species to reach the Erne System as has happened already with Planorbarius corneus.
Ecology
A species of slow-flowing water in rich lowland habitats such as canals and marshland drainage dykes in Britain
Found in similar places in Ireland but also within large lake systems
Prefers macrophyte-rich fringes in larger habitats
Taxonomy
Least concern (lc).
Wikipedia link
Wikipedia page for Bithynia leachii
Anderson, R., (2016). Bithynia (Codiella) leachii (Sheppard 1823). [In] MolluscIreland.
http://www.habitas.org.uk/molluscireland/species.asp?ID=45 Accessed on 2019-04-20.