Balea (Balea) sarsii Pfeiffer 1847 Tree snail
Map hosted by the National Biodiversity Data Centre, Waterford
To view the species profile on Biodiversity Maps and access the live map, please click on the map.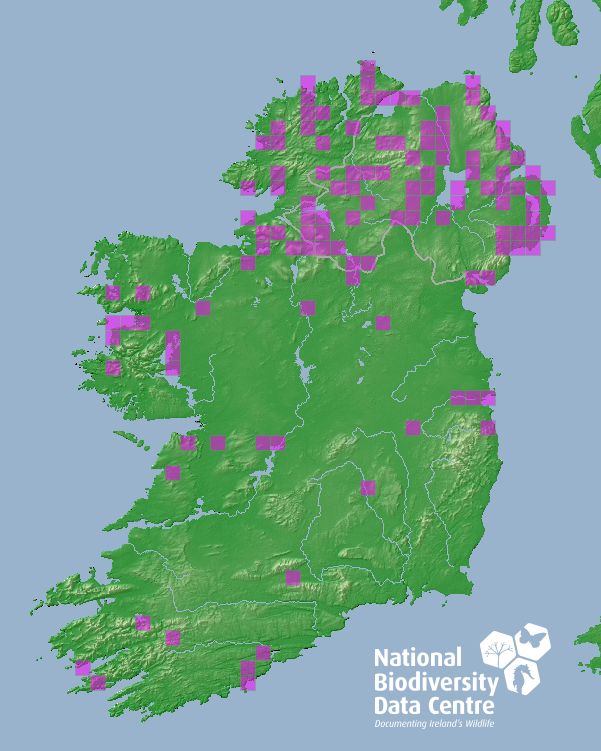 A small, fairly glossy shell which is narrowly but evenly conical. Aperture oval, lacking teeth or lamellae. Outer lip simple. Surface relatively smooth but crossed by coarse radial growth lines. Colour varies from a translucent mid brown to yellowish or greenish-brown. Mainly on trees but also walls.
Key characteristics
A medium-spired narrowly conical shell
Surface glossy but crossed with coarse radial growth lines
Colour mid to dark brown or with a strong greenish or yellowish cast
Aperture a rounded oval without teeth or lamellae
Lip simple, not re-inforced
Size
6-8 mm.
World Distribution
Uncertain at present but probably confined to the extreme western seaboard of Europe and the Atlantic isles. Distribution type: Oceanic Temperate (71).
Irish Distribution
Distributed across Ireland in suitable habitats and common or abundant in wooded areas.
Ecology
Primarily a tree species found under bark of both living and dead broadleaf species
Also on Sitka spruce and other conifers in high rainfall areas, feeding on epiphytic lichens
On the coast found on rocks above high water mark feeding on lichens, mainly species of Xanthoria alkaloids from which it retains parietin as an antifeedant to fend off predators (Baur et al. 1998)
Taxonomy
The name heydenii has now been superceded as the species was described from Norway at an earlier date than von Maltzan, under the name sarsii Pfeiffer.
Red List status
Wikipedia link
Wikipedia page for Balea sarsii
Anderson, R., (2016). Balea (Balea) sarsii Pfeiffer 1847. [In] MolluscIreland.
http://www.habitas.org.uk/molluscireland/species.asp?ID=40 Accessed on 2018-07-19.