Acroloxus lacustris (Linnaeus 1758) Lake limpet
Map hosted by the National Biodiversity Data Centre, Waterford
To view the species profile on Biodiversity Maps and access the live map, please click on the map.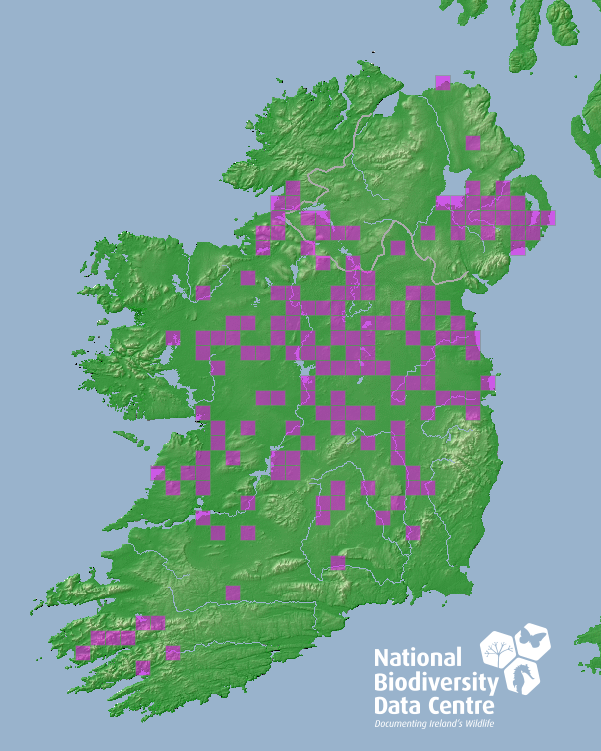 A small, elongate, limpet-like shell with a sharp apex twisted to the left, found widely on the stems of emergent vegetation and macrophytes in still waters.
Key characteristics
A small, yellow-brown, limpet-like shell
Laterally compressed and elongate with a sharp apex which is twisted to the left
Found closely adhering to immersed plant stems in still water
Size
4-7 mm.
World Distribution
Found across Europe to western and central Siberia. Distribution type: Eurosiberian Wide Temperate (64).
Irish Distribution
Widely distributed in the central plain and northwards to Loughs Neagh and Erne but absent from large areas of the west and north.
Ecology
Prefers still water in lakes, pools and slow rivers
Crawls, closely adhering, on the stems of tall marginal vegetation or submerged macrophytes
Mainly confined to waters of moderate to high base status
Rare exceptions include pools in acidic interdrumlin fens where it is probably relict from the earlier, lacustrine stages of fen development
Red List status
Wikipedia link
Wikipedia page for Acroloxus lacustris
Anderson, R., (2016). Acroloxus lacustris (Linnaeus 1758). [In] MolluscIreland.
http://www.habitas.org.uk/molluscireland/species.asp?ID=4 Accessed on 2018-09-25.