Click on the thumbnails to enlarge the images
© Dr Roy Anderson
© Dr Roy Anderson
Map hosted by the National Biodiversity Data Centre, Waterford
To view the species profile on Biodiversity Maps and access the live map, please click on the map.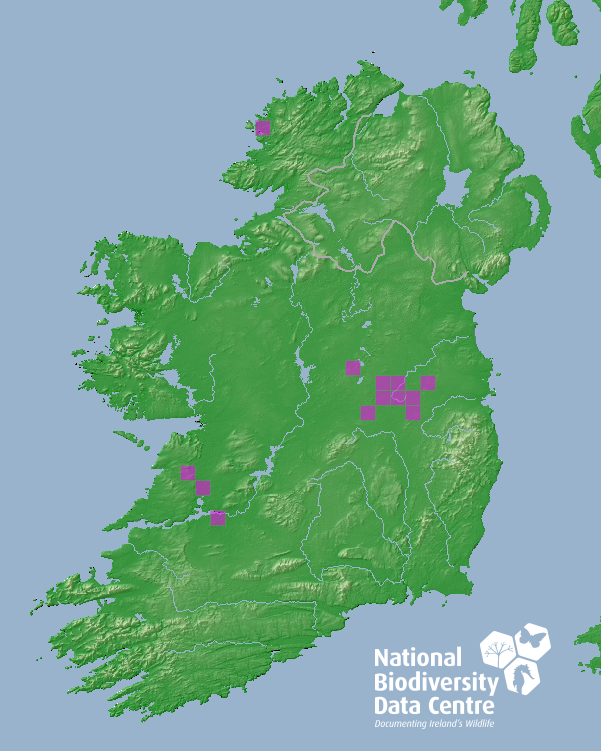 A small but solid, rather pretty, operculate shell forming an almost perfect cone shape with glossy yellow-brown surface often with a broad red-brown band on the lower body whorl. Confined to estuaries.
Key characteristics
Shell small, solid, forming an almost perfect short cone with flat sutures between the whorls
Colour olive- to yellow-brown, often with a broad red-brown band on the body whorl and with the upper whorls a uniform red-brown
Aperture closed by an operculum
Size
4-6 mm.
World Distribution
Until recently this species was thought to be confined to the coasts of the North Sea with sites in Denmark, the Netherlands and south-east England. It has recently been reported from southern Ireland (Colville, 1992) and has also spread to north-west England. Distribution type: restricted Oceanic Temperate (71).
Irish Distribution
The Irish sites are all on the Shannon Estuary (Colville, 1992) and include Ferry Bridge on the River Maigue, Limerick, on the south side of the Estuary, and Clarecastle on the River Fergus, Clare, on the north side. Colville (1992) was of the opinion that it had appeared recently at these sites since the species was not detected by Phillips (1909) on visits there, although he recorded its associate Mercuria confusa. The Irish sites are also very disjunct from its North Sea centre of distribution (Kerney, 1999). To Colville's sites the banks of the Bunratty River near Bunratty Castle in Clare can now be added (RA, August 2001) and Bunlicky Bridge, Ballincurra Creek (RA, October 2008). It is likely to be widespread in semi-saline environments throughout the inner part of the Shannon Estuary.
Ecology
Often on glutinous calcareous mud at the base of Phragmites well within tidal range on the banks of tidal streams
To a lesser extent beyond the normal tidal range in freshwater Iris marshes or grassy puddles with Oxyloma elegans and other amphibious species
Taxonomy
Like Hydrobia acuta and perhaps the Mercuria found on British coasts, this species may turn out to be synonymous with various southern European and Mediterranean forms currently given specific rank, and therefore to have a Mediterranean-Atlantic distribution. Giusti et al. (1995) argue that grayana may be the correct name, as the oldest epithet in currency, for a common Tyrrhenian Assiminea which is currently known as A. littorina (Delle Chiaie 1828).
Red List status
Not applicable (suspected invasive rather than native).
Wikipedia link
Wikipedia page for Assiminea grayana
Anderson, R., (2016). Assiminea (Assiminea) grayana Fleming 1828. [In] MolluscIreland.
http://www.habitas.org.uk/molluscireland/species.asp?ID=38 Accessed on 2019-04-20.