Ashfordia granulata (Alder 1830) Silky snail
Click on the thumbnails to enlarge the images
© Dr Roy Anderson
© Dr Roy Anderson
Map hosted by the National Biodiversity Data Centre, Waterford
To view the species profile on Biodiversity Maps and access the live map, please click on the map.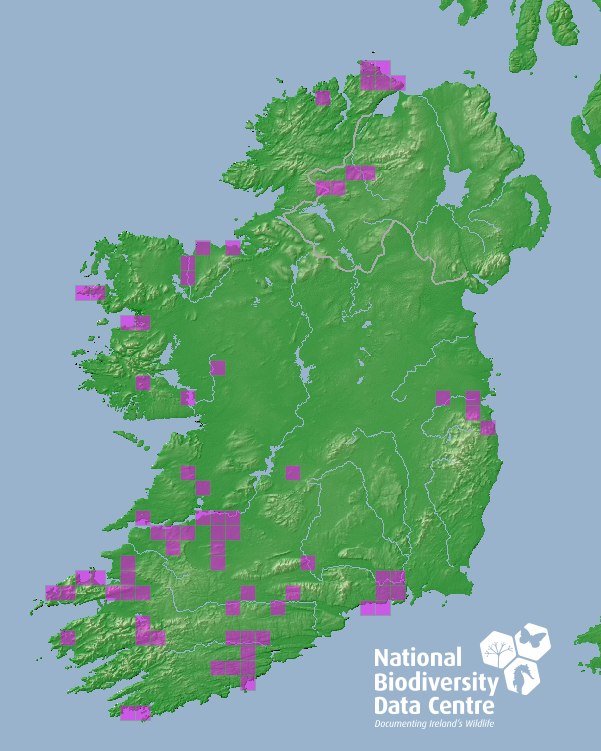 A small, depressed-globular shell with low spire and 5½-6 convex whorls with deep sutures. Aperture rounded with a very thin or no internal rib. Surface slightly glossy, translucent, whitish to pale brown, covered with stiff straight hairs. Local in Ireland and commonest near the south coast.
Key characteristics
A small, depressed-globular hairy shell
Surface slightly glossy, translucent and whitish or pale brown
Shell ornamented with stiff, straight, pale hairs with a bulbous base
Aperture rounded with a very thin or no internal rib
Umbilicus very narrow, covered by the reflected columellar lip
Animal pale grey to bluish-grey
Size
7-9 mm.
World Distribution
A western European species found in the British Isles and a few places in north-west France and north-west Spain. Distribution type: Oceanic Temperate (71).
Irish Distribution
Mainly recorded from southern and south-western counties with scattered localities up the west coast to Inishowen in Co. Donegal. Its patchy distribution is difficult to account for but may be due to a sensitivity to grazing pressure in the lightly wooded habitats it prefers.
Ecology
In Ireland it has been recorded mostly from light hazel scrub, along hedgerows and in scrubby pasture (Anderson, 1977, 1983, 1992b)
In Co. Waterford it is common near the coast in domestic gardens and along hedgerows
Red List status
Wikipedia link
Wikipedia page for Ashfordia granulata
Anderson, R., (2016). Ashfordia granulata (Alder 1830). [In] MolluscIreland.
http://www.habitas.org.uk/molluscireland/species.asp?ID=37 Accessed on 2018-07-16.