Acicula fusca (Montagu 1803) Point snail
Map hosted by the National Biodiversity Data Centre, Waterford
To view the species profile on Biodiversity Maps and access the live map, please click on the map.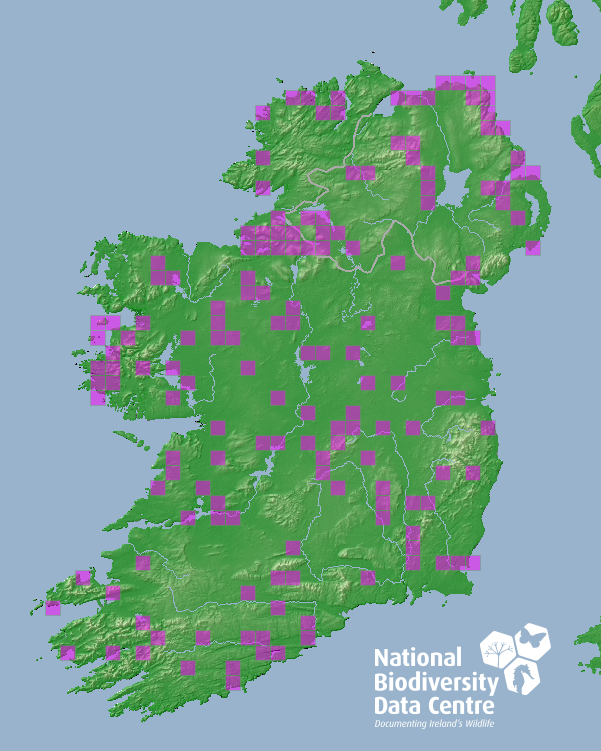 A tiny species with glossy cylindrical shell and an operculum living in deep, stable leaf litter, moss or soil in wooded habitats on base-rich soils.
Key characteristics
Shell cylindrical, of about 6 whorls, with blunt apex and shallow sutures
Has a minute translucent operculum which closes the aperture but this can be difficult to see
Surface smooth, glossy, reddish to yellowish-brown, with extremely fine, widely spaced radial striae
Animal pale with the eyes at the base of the tentacles
Size
2.2-2.8 mm
World Distribution
Distribution centred upon the British Isles but known also from Belgium, north-west Germany and France south to the Basses Pyrénées. Commonest in the west, including Ireland. Distribution type: Oceanic Temperate (71).
Irish Distribution
Widespread, sometimes common, in old woods or scrub in limestone areas eg. central limestone plain. Local and rare elsewhwere.
Ecology
Can be found on or in soil, often under stones, in thick moss or in deep leaf litter
Prefers shaded environments on base-rich strata
Occasionally reported from acidic strata but rare away from limestone, chalk and basalt
Red List status
Wikipedia link
Wikipedia page for Acicula fusca
Anderson, R., (2016). Acicula fusca (Montagu 1803). [In] MolluscIreland.
http://www.habitas.org.uk/molluscireland/species.asp?ID=3 Accessed on 2019-04-20.