Otina ovata (T. Brown 1827) Ear-shaped snail
Map hosted by the National Biodiversity Data Centre, Waterford
To view the species profile on Biodiversity Maps and access the live map, please click on the map.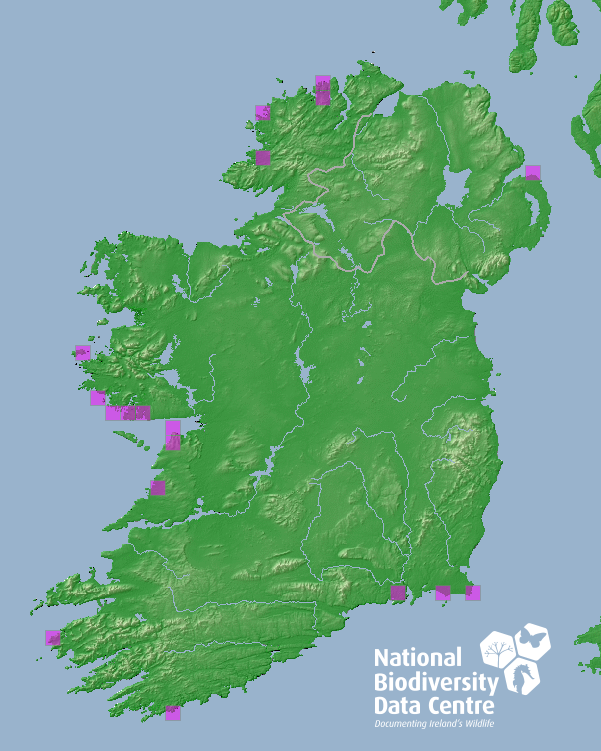 A tiny ear-shaped snail with a very large body whorl and minute spire. Shell surface purplish-brown and often with a chalky deposit. Animal pale and with short, stubby tentacles. Rock crevices on the upper shore. Local.
Key characteristics
A tiny ear-shaped shell with very large body whorl and minute spire
Shell covered with a purple-brown to brown periostracum, sometimes covered with a chalky deposit
Animal pale grey with short, stubby tentacles
Size
2.5-3 mm.
World Distribution
Has a very restricted distribution centred on the coasts of the British Isles and parts of western France. Distribution type: Oceanic Temperate (71).
Irish Distribution
An interesting member of the upper tidal crevice fauna, very localised in Ireland due to its dependence upon fissuring rock types. Recorded mainly from Co. Down, from Galway Bay and from Cos. Clare and West Donegal according to Stelfox (1911a).
Ecology
Prefers foreshores or gullies in contact with the open sea, usually with a fine, silty-gravel substratum
Here it occupies silted crevices, usually within north or east-facing overhangs, 0.5m or so below the Pelvetia zone
Found more rarely under stones on silty gravel
The very restricted distribution is unusual in a supra-littoral organism and it can be regarded as near-endemic in Britain and Ireland
Red List status
Wikipedia link
Wikipedia page for Otina ovata
Anderson, R., (2016). Otina ovata (T. Brown 1827). [In] MolluscIreland.
http://www.habitas.org.uk/molluscireland/species.asp?ID=20 Accessed on 2018-07-19.