Zenobiella subrufescens (J. S. Miller 1822) Brown Snail
Click on the thumbnails to enlarge the images
© Dr Roy Anderson
© Dr Roy Anderson
Map hosted by the National Biodiversity Data Centre, Waterford
To view the species profile on Biodiversity Maps and access the live map, please click on the map.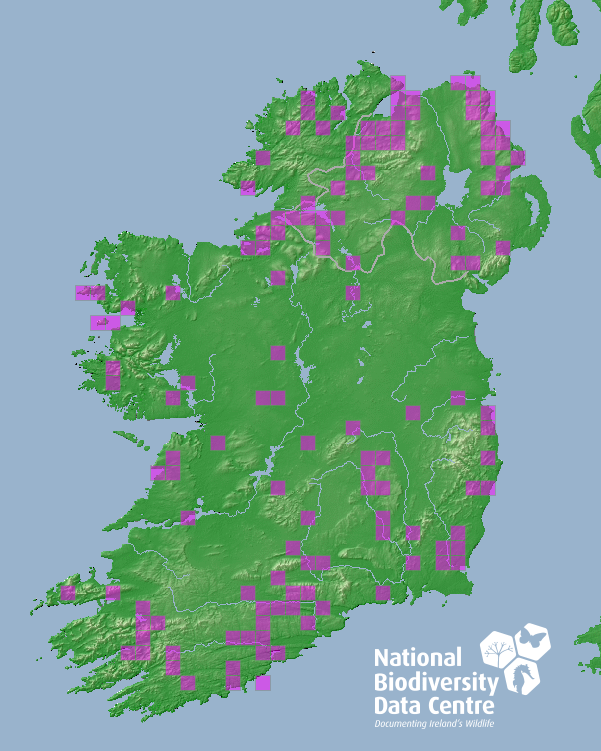 A very fragile, thin, depressed-globular shell with a low spire of 4½-5 convex whorls with moderate sutures. Slightly shouldered at the periphery. Mouth elliptical, lacking a rib. Surface slightly glossy, thin and translucent, pale brown with fine irregular growth ridges. Widespread but local.
Key characteristics
A very thin, translucent brown shell
Depressed-globular spire with 4½-5 convex whorls with moderate sutures
Slightly shouldered at the periphery
Animal variable in color from pale to dark grey to lmost black
Mouth elliptical lacking an internal rib or thickening
Size
8-10 mm.
World Distribution
Range centred upon the British Isles with a few localities on the western coasts of France. Distribution type: Oceanic temperate (71).
Irish Distribution
Widespread in an arc around the south, west and north of Ireland but rare or very local in the central plain and in eastern counties.
Ecology
An old woodland relict and confined to old woodland and scrub in glens, river valleys and scarps
It often occurs in association with the wood rush, Luzula
Appears adept at climbing trees and may often be swept or beaten off trees such as hazel and beech
Red List status
Wikipedia link
Wikipedia page for Zenobiella subrufescens
Anderson, R., (2016). Zenobiella subrufescens (J. S. Miller 1822). [In] MolluscIreland.
http://www.habitas.org.uk/molluscireland/species.asp?ID=194 Accessed on 2018-07-23.