Viviparus viviparus (Linnaeus 1758) Common river snail
Map hosted by the National Biodiversity Data Centre, Waterford
To view the species profile on Biodiversity Maps and access the live map, please click on the map.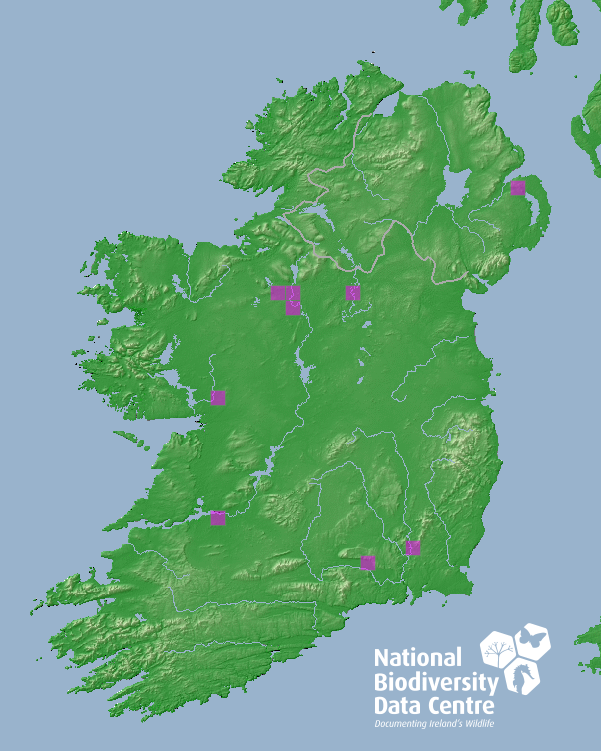 A large, broadly conical, fairly solid shell marked with distinctive spiral, red-brown, bands on an olive background. Aperture closed by an operculum. Spire less pointed than its close relative Viviparus contectus and shell less glossy. The latter is in Britain but not Ireland. Viviparus viviparus is a modern introduction in Ireland.
Key characteristics
Shell large, broadly conical and smooth, slightly glossy
Colour olive with several spiral, red-brown bands
Aperture closed by an operculum
Found in large lakes and rivers
Size
25-35 mm.
World Distribution
Ranges from Pyrenees and central Italy north to middle latitudes in Scandinavia. Distribution type: European Wide Temperate (83).
Irish Distribution
May be an Irish native which has died out in prehistoric times. Recent records relate to accidental introductions. The first report of its occurrence was that of Brown (1818) for Newtownards, Down where the species is certainly no longer extant and was probably introduced. Fogerty (1909) found a dead shell on the Shannon below Limerick, and a further specimen was found in this area by Phillips in 1922 (McMillan and Stelfox 1961). McMillan and Stelfox (op. cit.) reported dredgings of subfossil material by R.A. Phillips in the Rivers Suir and Barrow between 1911 and 1922, although living material has never been found there. On this basis it is likely to have become extinct as a native species. Introductions via angling activities are certainly known, for example at Acres Lake near Drumshanbo, Leitrim (Cotton 1996). It has also spread recently in the Shannon System, which seems more the behaviour of an invasive introduction than a native, to sites such as Drumleague Lock, Leitrim, Rockingham, Lough Key, Roscommon and Carrick-on-Shannon, Roscommon (Minchin et al., 1998). A further interesting development is the discovery in 2001 of a colony at Lough Oughter in Co. Cavan, which is in the Erne System (G.A. Holyoak, pers. comm.) whence it probably arrived via the Ballyconnell Canal connecting the Shannon to the Erne which was opened in 1994.
Ecology
Largely confined to major, slow-moving, rivers and to lakes
Prefers calcareous (base-rich) waters
Often found in deep water
Red List status
Alien introduction (not classified).
Wikipedia link
Wikipedia page for Viviparus viviparus
Anderson, R., (2016). Viviparus viviparus (Linnaeus 1758). [In] MolluscIreland.
http://www.habitas.org.uk/molluscireland/species.asp?ID=193 Accessed on 2019-07-20.