Vitrina pellucida (O. F. Müller 1774) Pellucid glass snail
Click on the thumbnails to enlarge the images
© Dr Roy Anderson
© Dr Roy Anderson
Map hosted by the National Biodiversity Data Centre, Waterford
To view the species profile on Biodiversity Maps and access the live map, please click on the map.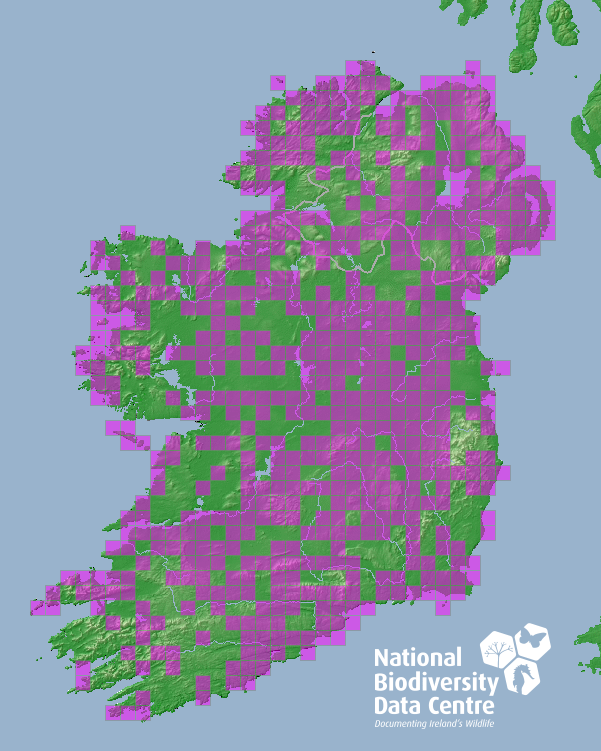 A 'semi-slug' with flattened, globular shell with a large body whorl and aperture and small, depressed spire. Fragile and transparent greenish with 3-4 whorls. Animal pale grey with darker head and tentacles but large in comparison with the shell and unable to completely retreat into it. Common.
Key characteristics
A medium-small semi-slug with more globular shell than Semilimax
Body whorl large with a small, depressed spire
Shell fragile and transparent greenish in colour
Animal pale grey with darker head and tentacles and larger than the shell
Size
4.5-6.0 mm.
World Distribution
Found across central and northern Europe to the High Arctic. Distribution type: Circumpolar Boreo-temperate (56).
Irish Distribution
Widespread and common.
Ecology
A winter species, adults ovipositing in winter and disappearing in the spring, with eggs hatching in early summer
Very common in all kinds of shaded or wet places including coastal dune slacks but becoming more scattered in acidic terrain and towards the west
Red List status
Wikipedia link
Wikipedia page for Vitrina pellucida
Anderson, R., (2016). Vitrina pellucida (O. F. Müller 1774). [In] MolluscIreland.
http://www.habitas.org.uk/molluscireland/species.asp?ID=192 Accessed on 2019-08-18.