Valvata (Valvata) cristata O. F. Müller 1774 Flat valve snail
Map hosted by the National Biodiversity Data Centre, Waterford
To view the species profile on Biodiversity Maps and access the live map, please click on the map.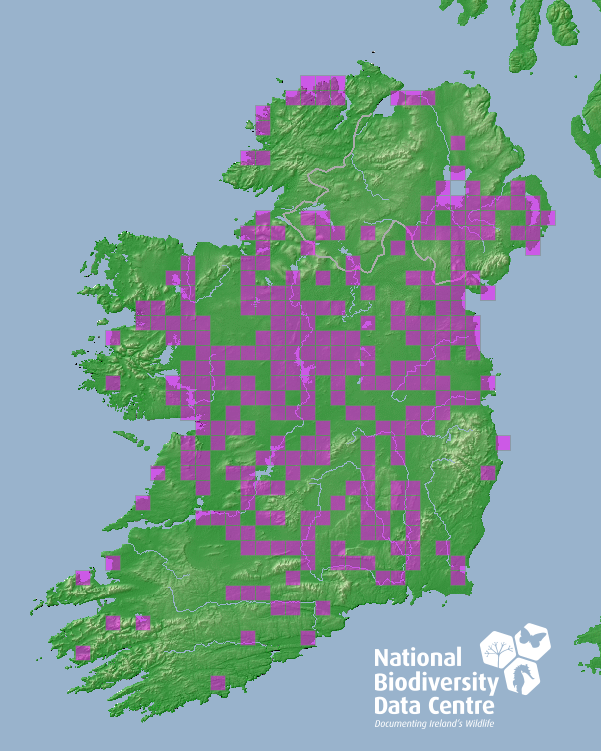 A small operculate shell forming a flattened coil. Colour yellow-brown. Animal with a feathery external gill. Found in clear, weedy waters of small size.
Key characteristics
Shell a flattened coil of 4-5 whorls
Colour yellow-brown, glossy, except when covered by deposits
With an operculum (compare small planorbids which have no operculum)
Live animal has a feathery external gill
Size
3-3.5 mm.
World Distribution
Found across the whole of mainland Europe and Siberia to the Pacific. Distribution type: Eurasian Wide Temperate (65).
Irish Distribution
Scattered across central areas of Ireland north to Loughs Neagh and Erne. Disappears towards the south-west, west and north-west.
Ecology
Found in clear weedy habitats of relatively small size and minimal flow i.e. drains, floodplain marshes, margins of larger lakes, fens
Becomes rare in acid or peaty waters
Red List status
Wikipedia link
Wikipedia page for Valvata cristata
Anderson, R., (2016). Valvata (Valvata) cristata O. F. Müller 1774. [In] MolluscIreland.
http://www.habitas.org.uk/molluscireland/species.asp?ID=179 Accessed on 2022-05-29.