Valvata (Cincinna) piscinalis (O. F. Müller 1774) Common valve snail
Click on the thumbnails to enlarge the images
© Dr Roy Anderson
© Dr Roy Anderson
Map hosted by the National Biodiversity Data Centre, Waterford
To view the species profile on Biodiversity Maps and access the live map, please click on the map.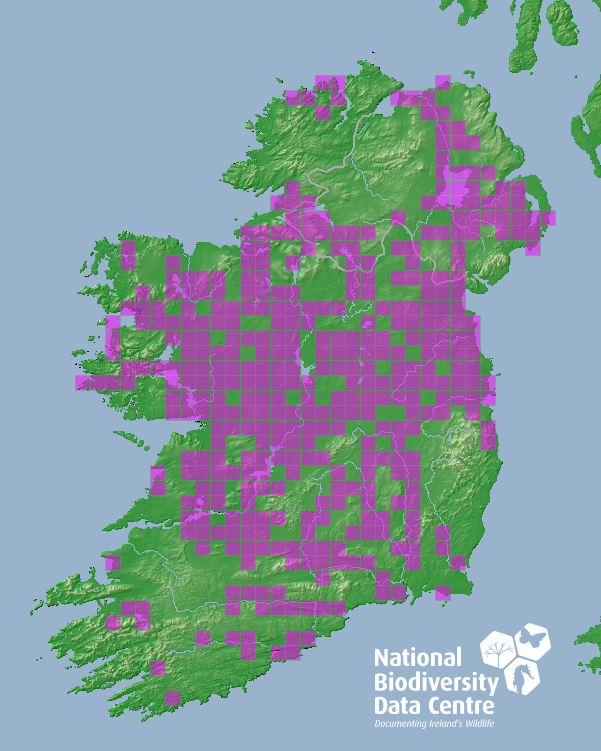 A broad, operculate shell with loose coiling and an open umbilicus, forming a squat cone. Surface yellow-brown, matt, with fine radial striae. Lives on the bottom in large lakes and rivers.
Key characteristics
A broader than tall, medium-sized operculate shell with a narrow, deep umbilicus
Yellow-brown in colour but often darker from deposits
Surface with fine radial striae which are more pronounced in var. alpestris Küster found in Loughs Neagh and Erne
Live animal possesses a feathery external gill
Size
4.5-6 mm.
World Distribution
Found across the whole of mainland Europe and Siberia to Pacific coastsof Asia. Distribution type: Eurasian Wide Temperate (65).
Irish Distribution
Widespread and an important constituent of the diet of wintering wildfowl on larger lakes such as Lough Neagh (Winfield & Winfield, 1994). Rare or absent in the extreme west, south-west and north.
Ecology
Usually on the bottom, in slow-flowing, weed-free water and to considerable depths in lakes
Tolerates soft water in large lake systems but rare in small habitats and not in acid or dystrophic conditions
Red List status
Wikipedia link
Wikipedia page for Valvata piscinalis
Anderson, R., (2016). Valvata (Cincinna) piscinalis (O. F. Müller 1774). [In] MolluscIreland.
http://www.habitas.org.uk/molluscireland/species.asp?ID=177 Accessed on 2018-07-19.