Truncatella subcylindrica (Linnaeus 1767) Looping Snail
Click on the thumbnails to enlarge the images
© Dr Roy Anderson
© Dr Roy Anderson
Map hosted by the National Biodiversity Data Centre, Waterford
To view the species profile on Biodiversity Maps and access the live map, please click on the map.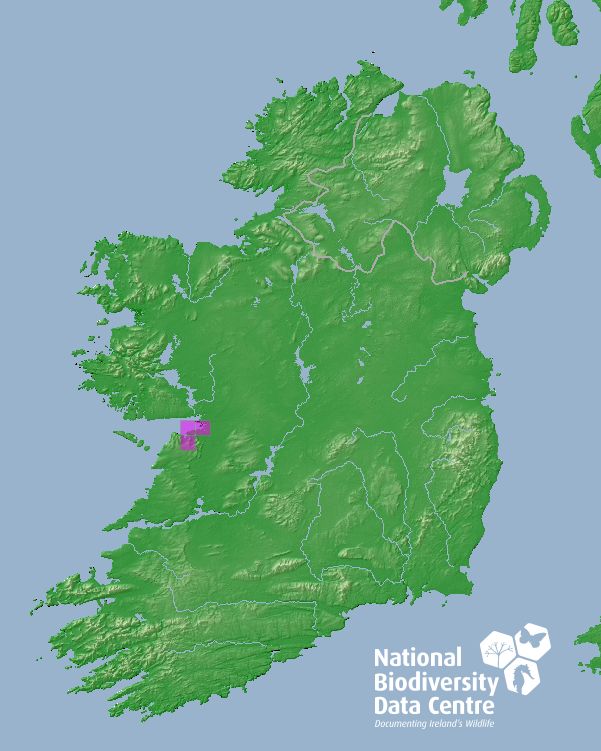 A small operculate snail with a high, narrow spire when young, but this is lost in adults which become decollate (see images). Surface smooth, matt brownish-white. Animal pale, walking with a looping movement. Confined to gravelly marine foreshores. Galway Bay only.
Key characteristics
Small operculate shell, narrowly conical when young but decollate (blunt-topped) when adult due to loss of the spire
Surface brown-white, faintly glossy to dull, smooth (radially channelled or ribbed in some European forms)
Animal pale, moves by an exaggerated looping movement like a caterpillar
Size
3.5-5 mm.
World Distribution
On coasts from the British Isles to the Mediterranean and as far east as the Black Sea. Distribution type: Mediterranean-Atlantic (91).
Irish Distribution
Its known distribution encompasses most of the south side of Galway Bay. Added to the Irish List from Carrowmore and Rincarna Lagoons (Nunn et al., 2005) in the inner part of the Bay with five further sites being found at Finavarra, Killeenaran, Parknahallagh and Bishop's Quarter, further to the west. Nicholls (1900) mentions a record of "Truncatella truncatula (Drap.)" for Bundoran in East Donegal where a shell was reportedly taken among shell sand by a Mrs Hancock (fide Thompson (1856)). Jeffreys (1862) regarded the record as a mistake but the finds in Galway Bay may prompt a re-evaluation of this early record.
Ecology
Lives on marine foreshores or saltmarshes
Found sparingly under large stones around high tide level on muddy gravel or stony beaches
In saltmarshes or by coastal lagoons, occasional under stones among sea purslane or sea blite
Red List status
Critically endangered (CR).
Wikipedia link
Wikipedia page for Truncatella subcylindrica
Anderson, R., (2016). Truncatella subcylindrica (Linnaeus 1767). [In] MolluscIreland.
http://www.habitas.org.uk/molluscireland/species.asp?ID=172 Accessed on 2018-09-25.