Trochulus (Trochulus) striolatus (C. Pfeiffer 1828) Strawberry snail
Click on the thumbnails to enlarge the images
© Dr Roy Anderson
© Dr Roy Anderson
Map hosted by the National Biodiversity Data Centre, Waterford
To view the species profile on Biodiversity Maps and access the live map, please click on the map.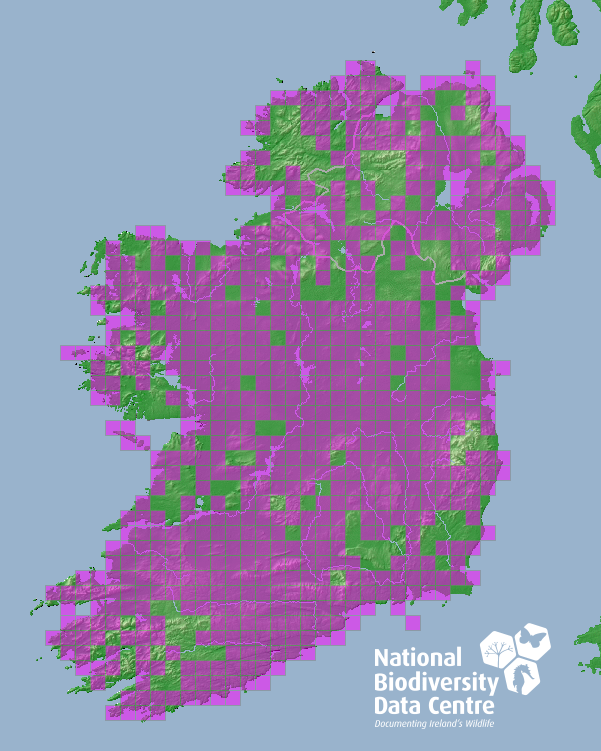 A medium-sized globular shell with depressed, low, conical spire. Whorls convex, with moderately deep sutures and last whorl noticeably angled on the periphery. Umbilicus medium-sized. Whitish to yellow-brown or red-brown with rather coarse irregular growth lines and often a pale band on the angled periphery. Hairless when adult, with scattered coarse hairs when juvenile. Widespread.
Key characteristics
A medium-sized, depressed-globular shell
Whorls convex with moderately deep sutures
Periphery noticeably angled
Umbilicus moderately wide and deep
Shell dull to slightly glossy with coarse growth lines, whitish translucent to dark red-brown, often with a faint pale peripheral band
Hairless when adult
Size
11-15 mm.
World Distribution
Confined to western Europe from the British Isles east to northern France and central and southern Germany. Distribution type: Suboceanic Temperate (72).
Irish Distribution
Common throughout, but scarce in highland areas.
Ecology
A garden pest nicknamed the strawberry snail and typical of synanthropic (humanly disturbed) habitats
Locally abundant in woodland, scrub, waste ground and around old buildings and gardens
Within sites typically concentrated in nettle beds or along old walls
Taxonomy
The form of this species found in Ireland is given as abludens Locard 1888 by Moorkens & Speight (2001) and by Ellis (1969).
Red List status
Wikipedia link
Wikipedia page for Trochulus striolatus
Anderson, R., (2016). Trochulus (Trochulus) striolatus (C. Pfeiffer 1828). [In] MolluscIreland.
http://www.habitas.org.uk/molluscireland/species.asp?ID=171 Accessed on 2018-08-21.