Theodoxus (Theodoxus) fluviatilis fluviatilis (Linnaeus 1758) River Nerite
Map hosted by the National Biodiversity Data Centre, Waterford
To view the species profile on Biodiversity Maps and access the live map, please click on the map.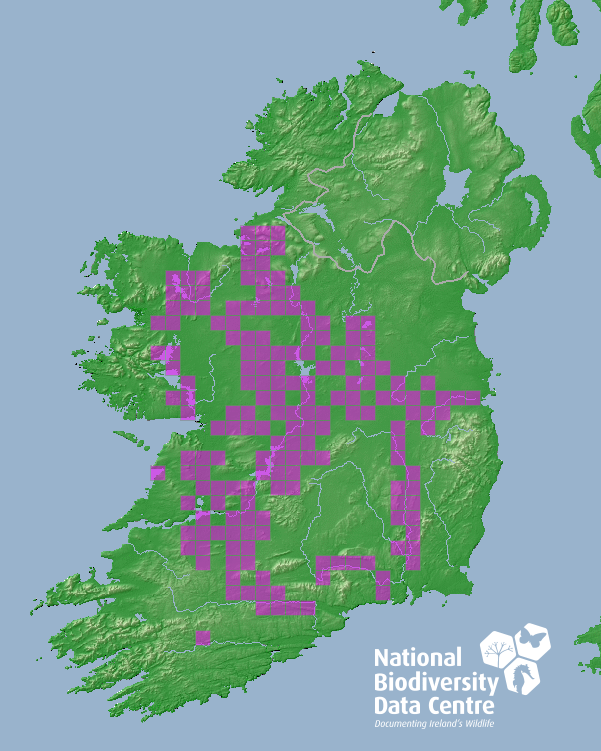 A small, solid shell mottled yellow or whitish on green. Has a large body whorl and large aperture closed by an operculum. Lives in hard water of lakes, canals and rivers, usually on stones or other solid support.
Key characteristics
A solid, dark green shell marbled and spotted with yellow or white.
Body whorl massive with 1-2 apical whorls perched on top.
Mouth wide, flattened, with a conspicuous broad white flange round the periphery to aid adhesion.
Operculum yellowish horn colour, thin but strong, translucent.
Size
9-13 mm
World Distribution
Ranges across Europe from the Pyrenees and Italy to coastal Finland and eastwards to the Caucasus. Distribution type: European Wide Temperate (63).
Irish Distribution
Widely distributed in central Ireland in slow-moving water or on lakeshores. It is recorded as far north-west as Glenade Lough, Sligo but is not in the Erne or Lough Neagh catchments (Kerney, 1968).
Ecology
Confined to well-oxygenated, usually flowing, water over calcareous bedrock
Also occasionally on exposed lake shores in the west
Prefers to settle and feed on rocks. walls or other solid support
Red List status
Wikipedia link
Wikipedia page for Theodoxus fluviatilis
Anderson, R., (2016). Theodoxus (Theodoxus) fluviatilis fluviatilis (Linnaeus 1758). [In] MolluscIreland.
http://www.habitas.org.uk/molluscireland/species.asp?ID=168 Accessed on 2019-07-20.