Theba pisana (O.F. Müller 1774) Sandhill snail
Click on the thumbnails to enlarge the images
© Dr Roy Anderson
© Dr Roy Anderson
Map hosted by the National Biodiversity Data Centre, Waterford
To view the species profile on Biodiversity Maps and access the live map, please click on the map.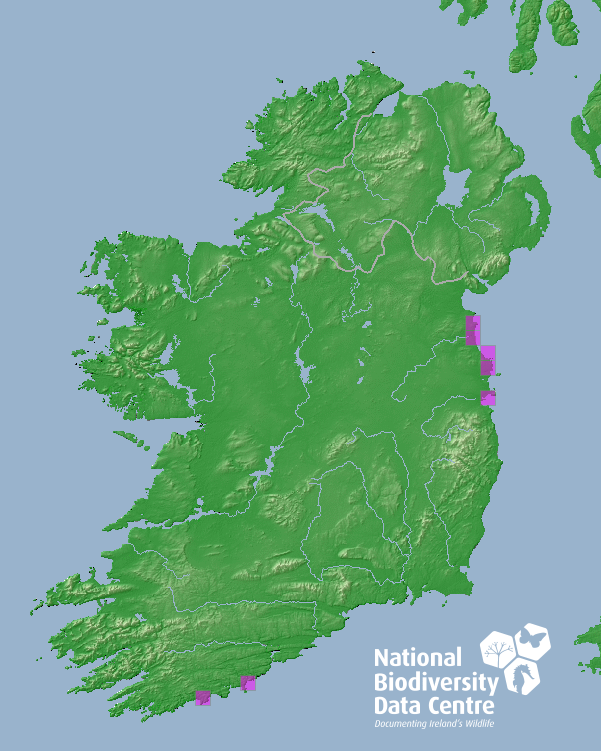 A medium to large, slightly depressed globular shell with 5½-6 slightly convex whorls and shallow sutures. Aperture elliptical with an internal rib. Surface white, yellow-brown to pink, with a complex and varied pattern of dark spiral bands which may be faint or broken up. Sand dunes on south and east coasts. Spreading.
Key characteristics
A medium large whitish, globular shell of 5½-6 whorls
Spire very low, whorls slightly convex and sutures shallow
Colour white to yellow-brown or pink with a complex pattern of brown spiral bands which may be interrupted or faint
Aperture elliptical with an internal rib
Umbilicus narrow, partly closed by the reflected columella
Surface with coarse growth ridges crossed by fine spiral striae
Size
16-22 mm.
World Distribution
A native of the Mediterranean but introduced to the coasts of north-west Europe as far north as the low countries and the British Isles.
Irish Distribution
Known since the nineteenth century from a small number of sites on the coasts of Louth, Meath and Dublin between Clogher Head and Rush (Kerney 1976a). More recently three colonies have been found in West Cork, at Garrettstown/White Strand, Ownahinchy Strand and Inchydoney Island (Cawley & Colville, 2001). It has also spread from its north Dublin sites to the North Bull sands in the city of Dublin (Anderson, 2008).
Ecology
Confined to coastal dunes in relatively frost-free localities
Has a predilection for climbing dead vegetation or walls during dry periods and remaining cemented in position for long periods by a copious chalky secretion used to block the shell opening and reduce water loss
Red List status
Wikipedia link
Wikipedia page for Theba pisana
Anderson, R., (2016). Theba pisana (O.F. Müller 1774). [In] MolluscIreland.
http://www.habitas.org.uk/molluscireland/species.asp?ID=167 Accessed on 2018-07-16.