Testacella (Testacella) scutulum Sowerby 1820 Shield slug
Map hosted by the National Biodiversity Data Centre, Waterford
To view the species profile on Biodiversity Maps and access the live map, please click on the map.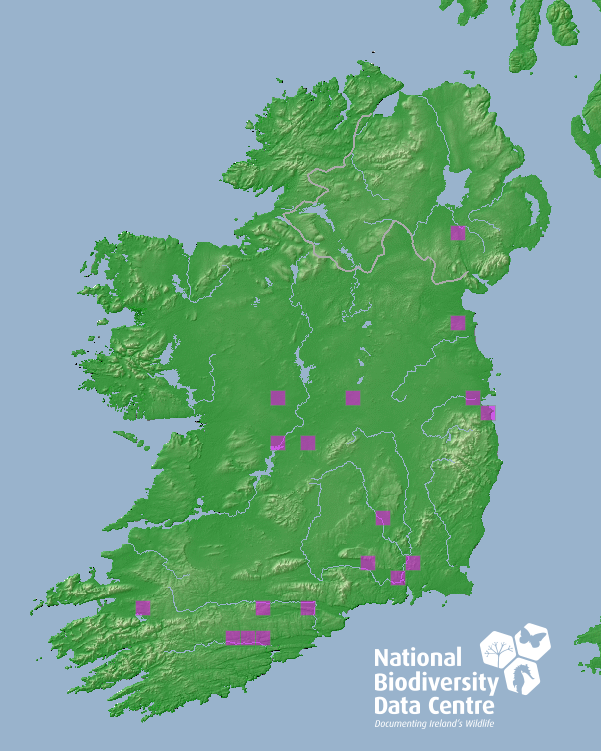 The least rare shelled slug in Ireland. Ground colour yellow to whitish, flecked dark brown over most of the upper surface, a colour which fades rapidly in alcohol. Foot fringe and sole deep yellow to orange. Shell small and nearly triangular with the upper end of columella sharply truncate, 6-7 mm. long. Widespread in southern counties.
Key characteristics
A moderate-sized yellowish slug, spotted darker, and with a small shell perched near the tail
Foot fringe and sole yellow to orange
Shell small and with the upper end sharply truncate, 6-7 mm. long
Generally much smaller than either of the other two Testacella in Ireland
Size
50-70 mm
World Distribution
Very similar to that of T. haliotidea. Distribution type: Mediterranean-Atlantic (91).
Irish Distribution
Scattered but less rare than other species. Not uncommon in Mid Cork and around Cork City in broadleaf woods or on waste ground and in gardens.
Ecology
An earthworm predator living in deep, friable loams where it hunts its prey
Prefers warm soils over limestone
Usually in sheltered woodland margins or in gardens
Red List status
Wikipedia link
Wikipedia page for Testacella scutulum
Anderson, R., (2016). Testacella (Testacella) scutulum Sowerby 1820. [In] MolluscIreland.
http://www.habitas.org.uk/molluscireland/species.asp?ID=166 Accessed on 2018-09-26.