Succinella oblonga (Draparnaud 1801) Small Amber Snail
Click on the thumbnails to enlarge the images
© Dr Roy Anderson
© Dr Roy Anderson
Map hosted by the National Biodiversity Data Centre, Waterford
To view the species profile on Biodiversity Maps and access the live map, please click on the map.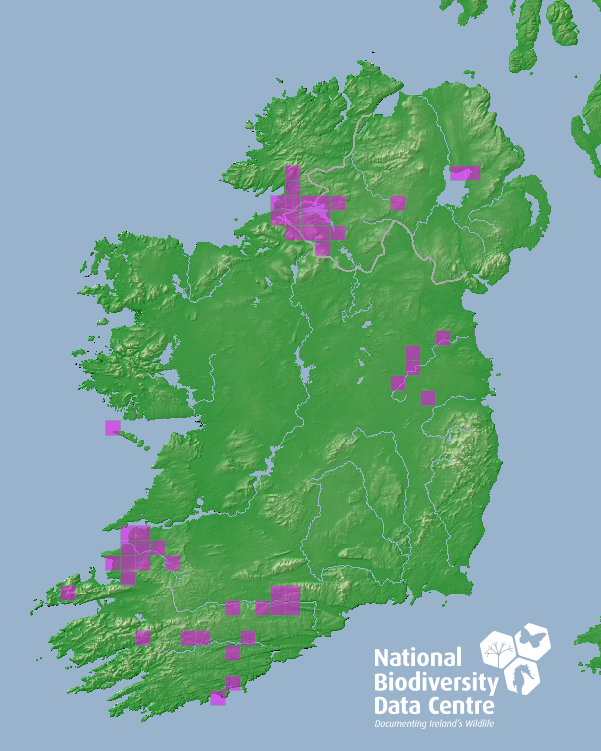 Similar to Q. arenaria but with a less convex body whorl and shallower sutures. Shell surface moderately shiny. Colour variable, deep yellow-brown to translucent greenish. In life the spire is no darker than the body whorl. Shell fragile and translucent. Very local and rare.
Key characteristics
A small, turreted, yellow-brown or greenish shell with moderately large body whorl
Body whorl less convex than that of Q. arenaria
Spire of a similar colour to the rest in the living animal, not darker as in Q. arenaria
Aperture a short oval
Shell fragile and translucent
Animal pale grey to dark grey
Size
6-8 mm.
World Distribution
Found across Europe and east to central Siberia. Distribution type: Eurosiberian Wide-temperate (64).
Irish Distribution
Confined to relatively small and well-separated areas but not uncommon within these areas (Kerney, 1976). A boreal relict and rare or very localised in most of the British Isles. In northern Ireland there are two disjunct areas of distribution: the north-eastern shores of Lough Neagh between Cranfield Point and Rea's Wood NNR south of the town of Antrim; and around the shores of Lower Lough Erne, extending westwards into south Donegal. A colony intermediate between these has recently been found in a limestone quarry at Harper's Bridge in south Tyrone (Anderson 2002). There is a large area of north Kerry where it appears widespread and scattered sites in Cos Cork and Waterford as well as along the Boyne Valley in Co. Louth.
Ecology
On Lough Neagh a relict population inhabits grazed and therefore open, sandy or gravelly lakeshores, but the cessation of grazing and growth of lush vegetation or woodland has led to its disappearance at several sites
On Lough Erne the lakeshore habitat is seasonally inundated and it occurs under stones and at the base of stone dykes in flood-prone lakeshore pastures
Suitable open habitats have historically tended to be very localised or unstable, but where favourable conditions are re-created from the quarrying of limestone rocks it appears to be an efficient and active colonist
Red List status
Wikipedia link
Wikipedia page for Succinella oblonga
Anderson, R., (2016). Succinella oblonga (Draparnaud 1801). [In] MolluscIreland.
http://www.habitas.org.uk/molluscireland/species.asp?ID=162 Accessed on 2018-07-20.