Arianta arbustorum (Linnaeus 1758) Copse snail
Click on the thumbnails to enlarge the images
© Dr Roy Anderson
© Dr Roy Anderson
Map hosted by the National Biodiversity Data Centre, Waterford
To view the species profile on Biodiversity Maps and access the live map, please click on the map.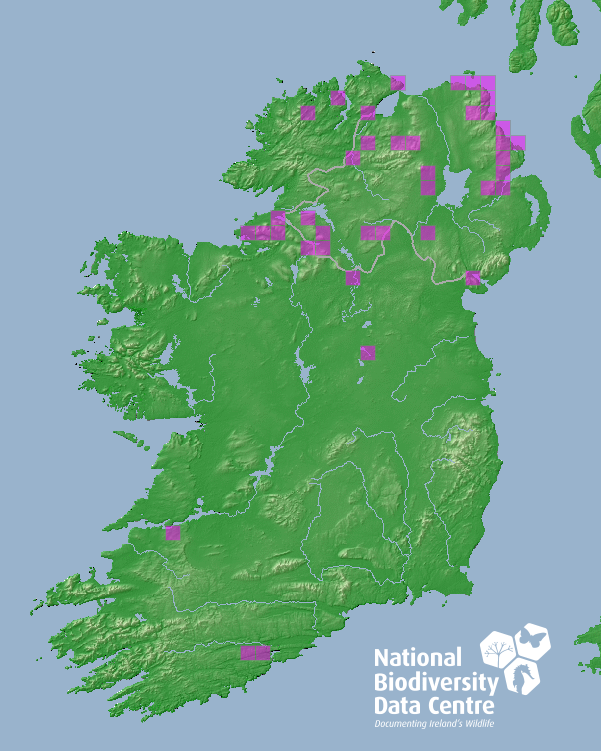 A large globular shell of 5-6 slightly convex whorls with shallow sutures. Umbilicus tiny and largely closed by the columella. Aperture nearly round with a whitish reflected lip. Surface moderately glossy, of an opaque yellowish-white to warm brown colour with a dark brown to red-brown spiral band on the periphery and usually with paler flecking across the shell. Rare, on limestone in northern districts.
Key characteristics
A large globular shell similar in shape and size to the banded snails Cepaea
Differs in the yellowish to mid-brown ground colour densely flecked paler (appearing mottled), and the single dark brown to red-brown band on the periphery
Umbilicus open, but tiny, and largely closed by the columella
Aperture nearly round with a whitish reflected lip
Size
17-22 mm.
World Distribution
Found across west and central Europe but not as far north as the Arctic nor into southern Europe. Distribution type: Suboceanic Boreal-temperate (52).
Irish Distribution
Almost confined to the northern half of Ireland with two outlying sites in Co. Cork where it may have a recent origin. Its range in the north of Ireland suggests that it may have originated from neighbouring areas of Scotland relatively late in the Postglacial period. A similar sort of distribution and therefore origin is posited for Arion owenii and the carabid beetle Carabus nitens.
Ecology
As its name, copse snail, suggests, mainly found in woodland
Also favours rich, fenny, unimproved pasture, scrub woods and rocks in limestone or chalk areas
Rarely found in acid terrain although there are a few records of very thin-shelled forms in ancient oak woods on the quartzite rocks of Co. Londonderry
Red List status
Wikipedia link
Wikipedia page for Arianta arbustorum
Anderson, R., (2016). Arianta arbustorum (Linnaeus 1758). [In] MolluscIreland.
http://www.habitas.org.uk/molluscireland/species.asp?ID=16 Accessed on 2018-09-23.