Succinea putris (Linnaeus 1758) Large amber snail
Map hosted by the National Biodiversity Data Centre, Waterford
To view the species profile on Biodiversity Maps and access the live map, please click on the map.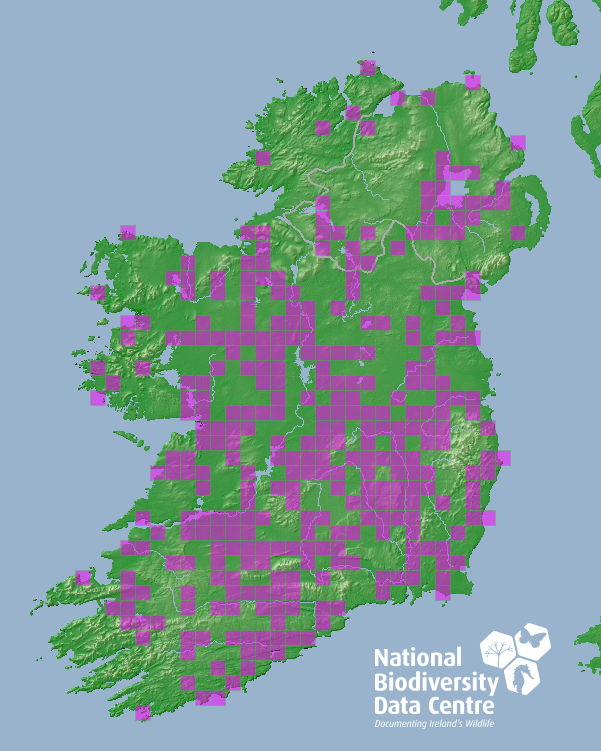 A large, translucent reddish or yellowish-brown shell with relatively flat whorls and shallow sutures. Aperture much greater than 50% of shell height. Spire very short. Animal often light in colour. Widespread.
Key characteristics
A large yellow-brown to reddish shell with massive body whorl and small spire
Whorls relatively flat and with shallow sutures
Aperture much greater than 50% of shell height
Animal usually shades of grey, very rarely dark
Much larger when full grown than other amber snails
Size
10-18 mm.
World Distribution
Not extending much into the northern or southern fringes of Europe. Distribution type: Eurosiberian Temperate (74).
Irish Distribution
Widespread and fairly common throughout Ireland, except the extreme north and north-west. In northern counties it is more or less confined to river valleys and lakeshores in the Lough Neagh and Lough Erne basins with outliers around Derry City.
Ecology
Inhabits tall marginal or fen vegetation on mesotrophic or eutrophic riverbanks and lakeshores
Climbs high on vegetation unlike Oxyloma elegans with which it frequently occurs
Red List status
Wikipedia link
Wikipedia page for Succinea putris
Anderson, R., (2016). Succinea putris (Linnaeus 1758). [In] MolluscIreland.
http://www.habitas.org.uk/molluscireland/species.asp?ID=159 Accessed on 2018-07-20.