Radix auricularia (Linnaeus 1758) Ear pond snail
Click on the thumbnails to enlarge the images
© Dr Roy Anderson
© Dr Roy Anderson
Map hosted by the National Biodiversity Data Centre, Waterford
To view the species profile on Biodiversity Maps and access the live map, please click on the map.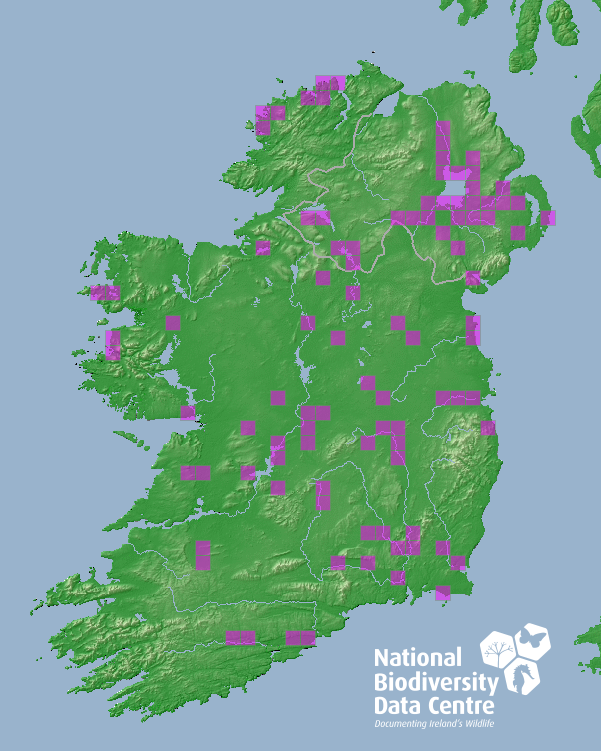 The prevailing form of the ear pond snail in Ireland (lagotis Schrank) is not very ear-shaped and rather similar to forms of Radix balthica, but has a sharper spire with deflected protoconch (seen in the angle which the shell makes with the animal body during movement) and a generally more expanded body whorl. Local in Ireland and uncommon.
Key characteristics
A medium to large shell with very large body whorl and short spire
Aperture ear-shaped, with strongly reflected lip, but in the typical Irish form the aperture is smaller and the lip less reflected, more like that of R. balthica
Upper edge of the aperture makes a right angle with the body whorl
Spire is deflected so that when the animal crawls it points obliquely to one side
Size
15-30 mm.
World Distribution
In Europe it occurs mainly in the milder central and western lowlands or in southern parts and thence across Siberia to east Asia. Distribution type: Eurasian Wide-temperate (65) and Southern-temperate (85).
Irish Distribution
Sparsely distributed through the central plain and around Loughs Neagh and Erne. It has apparently declined recently in much of central Ireland (Byrne et al., 2009).
Ecology
Scattered in silty habitats of peri-neutral to alkaline pH with abundant macrophytes
Generally confined to large lake systems and rivers
Relatively resistant to eutrophication and found, for instance, among dense growths of Cladophora along the hypertrophic shoreline of Lough Neagh
Red List status
Wikipedia link
Wikipedia page for Radix auricularia
Anderson, R., (2016). Radix auricularia (Linnaeus 1758). [In] MolluscIreland.
http://www.habitas.org.uk/molluscireland/species.asp?ID=151 Accessed on 2019-04-25.