Quickella arenaria (Potiez & Michaud 1835) Sand amber snail
Map hosted by the National Biodiversity Data Centre, Waterford
To view the species profile on Biodiversity Maps and access the live map, please click on the map.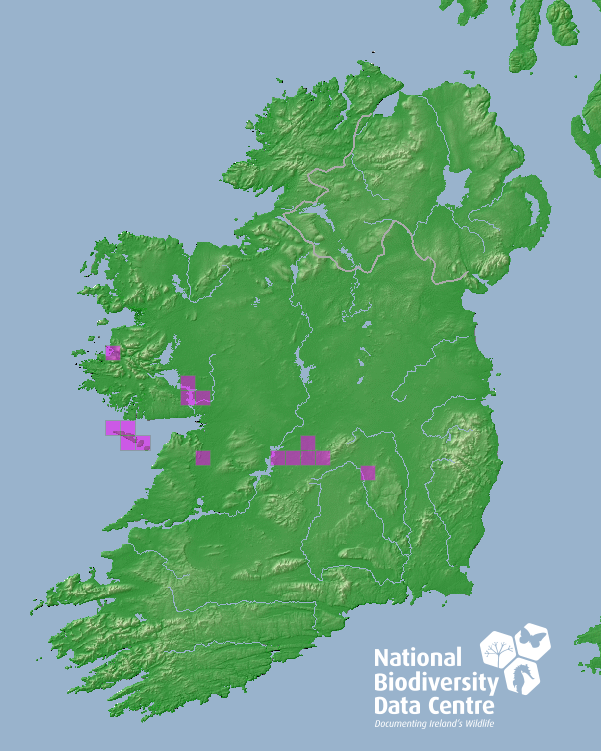 A short, turreted, conical shell with large body whorl. The aperture is about 50% of shell height, the spire very short and the whorls are convex with deep sutures. Surface moderately shiny with relatively coarse growth lines. Colour red-brown. In life the dark digestive gland shows through the shell to make the spire very dark compared to the body whorl. Shell fragile. Very local and rare.
Key characteristics
A small, turreted, red-brown shell with moderately large body whorl
The spire is moderately short but distinctive in the living animal as it appears dark because of the dark digestive gland showing through
Whorls very convex and globular with deep sutures
Animal dark grey to black
Size
5-8 mm.
World Distribution
Confined to western Europe and distributed mainly near coasts from France to south-east Sweden. There are curious outliers inland in the mountains of central Scandinavia and east Switzerland. The range is therefore Suboceanic Boreo-temperate (52).
Irish Distribution
Recorded from several base-rich fens in Co. Offaly (Norris & Pickrell, 1972), from two sites in Co. Clare, from three sites on Inishmore, Aran Islands, Co. Galway (Phillips, 1910; Tattersfield, 1991), from Dooaghtry dunes, Co. Mayo (Stelfox, 1912; Tattersfield, 1993) and most recently from a significant cluster of eight localities on the shores of Lough Corrib (Holyoak, 2005).
Ecology
It requires well-grazed or sparsely vegetated dune hollows, or grazed, sparsely vegetated flood plains of larger lakes
All of its sites are on calcareous coastal sands or on Carboniferous limestone
Red List status
Wikipedia link
Wikipedia page for Quickella arenaria
Anderson, R., (2016). Quickella arenaria (Potiez & Michaud 1835). [In] MolluscIreland.
http://www.habitas.org.uk/molluscireland/species.asp?ID=150 Accessed on 2018-08-20.