Aplexa hypnorum (Linnaeus 1758) Moss bladder snail
Click on the thumbnails to enlarge the images
© Dr Roy Anderson
© Dr Roy Anderson
Map hosted by the National Biodiversity Data Centre, Waterford
To view the species profile on Biodiversity Maps and access the live map, please click on the map.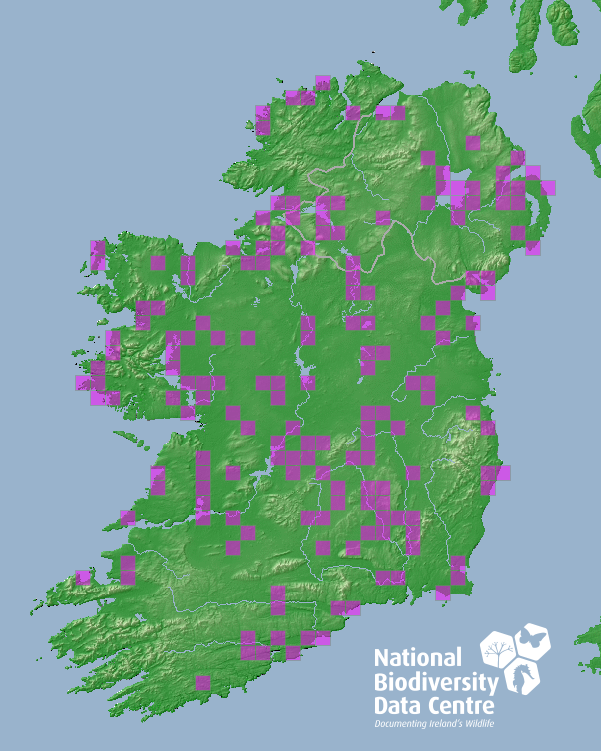 A sinistral, dark red-brown to yellow-brown, highly polished shell with a tall, sharp spire and nearly flat sutures. Animal dark grey to almost black and lacking mantle digitations. Widespread but declining.
Key characteristics
A dark, sinistral, and rather beautiful shell
Highly polished and slippery in the hands
Animal dark grey to almost black lacking mantle (digitate) outgrowths
Spire relatively tall and sharp and whorls flattened with nearly flat sutures
Size
9-13 mm.
World Distribution
Confusion with allied species in North America and eastern Siberia has created uncertainty about the true distribution of this species. Present information suggests a Eurosiberian Boreo-temperate (54) or possibly Eurasian Boreo-temperate (55) range.
Irish Distribution
Very widespread but sporadic and decreasing in frequency in areas where agriculture is intensive.
Ecology
This beautiful shell with its flexuous dark-grey animal is confined to small, often temporary lowland habitats or the margins of larger water bodies subject to seasonal flooding
Before arterial drainage became an established feature of the landscape it was recorded widely from the flood plains of larger rivers but these habitats are now scarcer than formerly
Still relatively common, at least in northern counties, in the floodplains of larger lakes and on some rivers
Has been recorded from slightly saline conditions on a lagoonal inlet of the Co.Down coast at Strand Lough, Killough
Taxonomy
There are two curious records for small streams in Cos Down and Antrim where it has been found with the river limpet Ancylus fluviatilis. Specimens in these instances were small with a maximum length of 7.1 mm and with pale horn-coloured shells of 5 whorls. No name is available for this form and its origins and affinities are unknown.
Red List status
Wikipedia link
Wikipedia page for Aplexa hypnorum
Anderson, R., (2016). Aplexa hypnorum (Linnaeus 1758). [In] MolluscIreland.
http://www.habitas.org.uk/molluscireland/species.asp?ID=15 Accessed on 2019-08-17.