Pyramidula pusilla (Vallot 1801) Rock snail
Click on the thumbnails to enlarge the images
© Dr Roy Anderson
© Dr Roy Anderson
Map hosted by the National Biodiversity Data Centre, Waterford
To view the species profile on Biodiversity Maps and access the live map, please click on the map.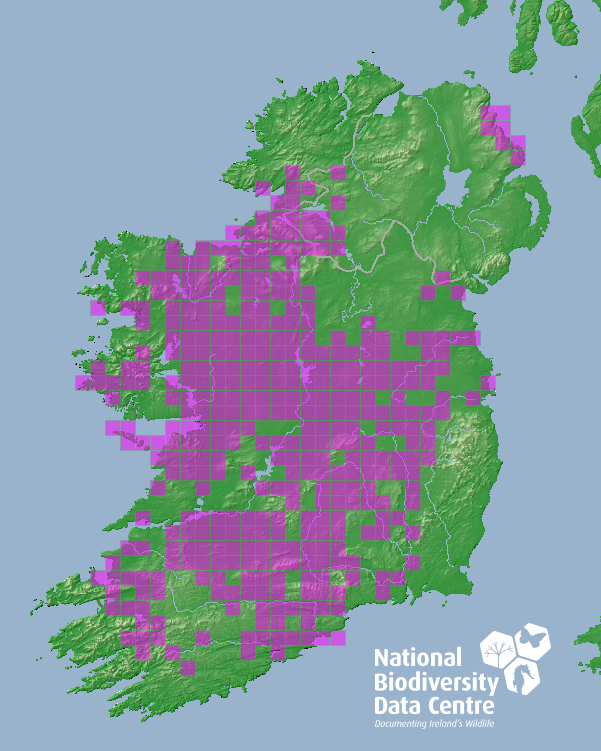 Shell tightly coiled and a depressed cone shape. Surface dark red-brown often wearing to a purplish-brown or grey with age. Marked by irregular but strong growth lines. Umbilicus very wide. Confined to walls and rocks in limestone or chalk areas.
Key characteristics
A tiny, tightly coiled dark shell
Spire a low cone
Surface coarsely marked by irregular growth lines
Umbilicus very wide
Colour dark red-brown often wearing to a purplish or grey with age
Size
2.5-3 mm wide.
World Distribution
Gittenberger & Bank (1996) have reversed the earlier lumping of taxa under the name P. rupestris and several species and subspecies are now recognized within Europe. The common European species is P. pusilla (= rupestris auct. non (Draparnaud)). Distribution type: Oceanic Temperate (71)).
Irish Distribution
This calciphile species is confined to Carboniferous limestone areas and is widespread across the central plain of Ireland north to Co. Fermanagh and south Tyrone. It has also colonised the Cretaceous chalk screes of the Antrim coast between Islandmagee and Lurigethan, although there are no intermediate stations connecting this area to its main range.
Ecology
An obligate wall or rock species found on base-rich natural rocks and screes
The enclosure of Irish land holdings and building of stone 'dykes' on field boundaries has greatly increased the area of habitat occupied
It is abundant in limestone areas under stones on the tops of dykes
Isolated anthropic habitats also occur in siliceous rock areas along lime-mortared walls - these are presently under threat from the re-pointing of bridges and walls with Portland cement-based mortar, which has much less free lime and retains only a very limited fauna and flora.
Taxonomy
The British form of pusilla is regarded as a distinct species, umbilicata (Montagu) by Gittenberger & Bank (1996). There is an unresolved problem here and the name pusilla has been retained until more information becomes available.
Red List status
Wikipedia link
Wikipedia page for Pyramidula pusilla
Anderson, R., (2016). Pyramidula pusilla (Vallot 1801). [In] MolluscIreland.
http://www.habitas.org.uk/molluscireland/species.asp?ID=149 Accessed on 2018-07-19.