Pisidium personatum Malm 1855 Red-crusted pea mussel
Map hosted by the National Biodiversity Data Centre, Waterford
To view the species profile on Biodiversity Maps and access the live map, please click on the map.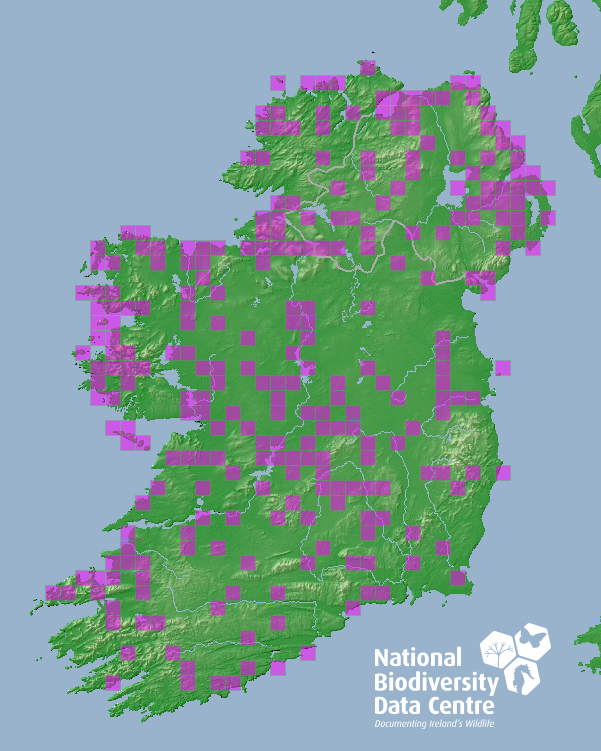 Shell a rounded, regular oval, shape with low, rounded umbos placed centrally. Surface dull or silky with very fine irregular concentric striations. Colour yellowish to grayish but invariably coated in a red-brown to dark brown deposit. Widespread and often abundant.
Key characteristics
The rounded oval shape is characteristic
Shell moderately tumid with centrally placed umbos
Surface usually dull, or silky if clean, with very fine irregular striations
Colour yellowish to grayish, sometimes slightly rosy from the animal within but also may be coated with a red-brown deposit
Size
2.5-3.5mm.
World Distribution
Restricted to Europe, and rare or absent in northern regions. Distribution type: European Southern Temperate (83).
Irish Distribution
One of our commonest species, particularly in wet woodland, marshes and ditches.
Ecology
A notably amphibious species which thrives in temporary habitats
Frequent in temporary pools and floodplain marshes, also flood-prone margins of lakes and rivers
Especially common in alder carr and other wet woodland types
Red List status
Wikipedia link
Wikipedia page for Pisidium personatum
Anderson, R., (2016). Pisidium personatum Malm 1855. [In] MolluscIreland.
http://www.habitas.org.uk/molluscireland/species.asp?ID=135 Accessed on 2018-09-19.