Pisidium nitidum Jenyns 1832 Shining pea mussel
Map hosted by the National Biodiversity Data Centre, Waterford
To view the species profile on Biodiversity Maps and access the live map, please click on the map.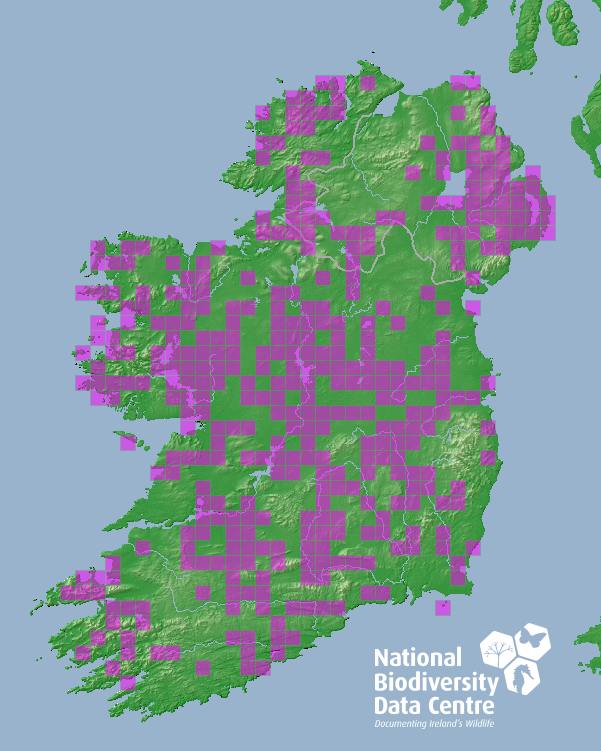 A slightly tumid, regularly oval shell with low umbos slightly behind the mid point. Umbonal area demarcated by three concentric furrows. Surface very glossy, with prominent irregularly spaced concentric striae. Colour yellowish. Widespread and common.
Key characteristics
A very glossy shell
Moderately tumid and a fairly regular oval in outline
Umbos low and slightly behind the middle
Umbonal area with three concentric furrows
Surface with prominent, irregularly spaced, concentric striae
Colour yellowish
Size
3-4mm.
World Distribution
Distribution type: Circumpolar Wide-temperate (66).
Irish Distribution
Widespread and common throughout but especially in the centre and east.
Ecology
Prefers moderately rich but clean, still or slow-flowing habitats in larger rivers or lakes
It can occur in marsh drains and streams but only where water conditions are suitable
Absent from highland or peaty biotopes
Red List status
Wikipedia link
Wikipedia page for Pisidium nitidum
Anderson, R., (2016). Pisidium nitidum Jenyns 1832. [In] MolluscIreland.
http://www.habitas.org.uk/molluscireland/species.asp?ID=133 Accessed on 2018-07-16.