Oxyloma (Oxyloma) sarsii (Esmark 1886) Slender amber snail
Click on the thumbnails to enlarge the images
© Dr Roy Anderson
© Dr Roy Anderson
Map hosted by the National Biodiversity Data Centre, Waterford
To view the species profile on Biodiversity Maps and access the live map, please click on the map.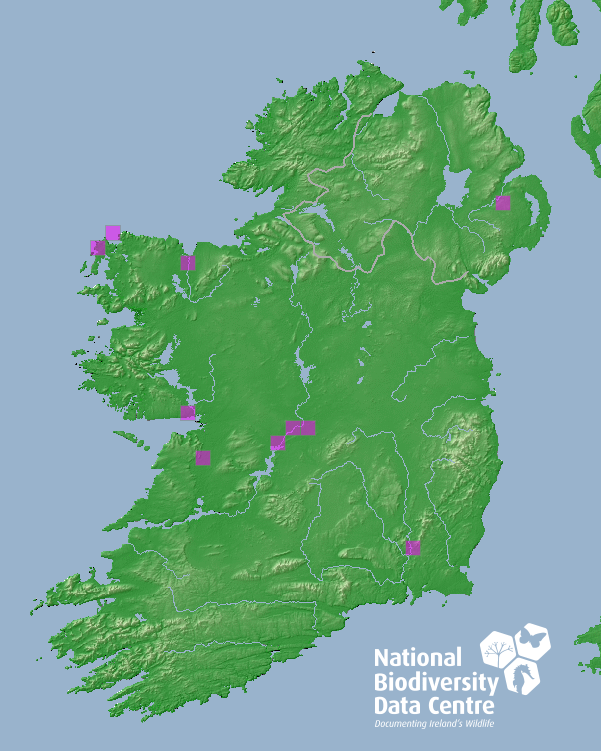 The Irish form of this species is indistinguishable from some forms of Oxyloma elegans (see first photograph of that species). Often more laterally compressed and taller than that species. Can only be reliably identified by dissection. Very rare and localised.
Key characteristics
A medium-sized shell with very large body whorl
Generaly more laterally compressed than Oxyloma elegans
Only reliably separated from O. elelgans by dissection
Size
10-14 mm.
World Distribution
Scattered in north and central Europe to northern Scandinavia. Distribution type: Suboceanic Boreo-temperate (52).
Irish Distribution
Added to the Irish List by Holyoak & Holyoak (2004) on the banks of the R. Shannon north of Portumna, south-east Galway. Evidently overlooked by others and may turn out to be widespread in the middle and southern reaches of the Shannon System. Since recorded from six further sites, clustered near the Shannon and on the Grand Canal near Victoria Lock and Shannon Harbour, Co. Offaly (Holyoak, 2006).
Ecology
Like O. elegans the usual niche is mud or low vegetation on lake and river margins
More frequently climbs tall marginal vegetation
Only on the margins of large, permanent water bodies
Red List status
Wikipedia link
Wikipedia page for Oxyloma sarsii
Anderson, R., (2016). Oxyloma (Oxyloma) sarsii (Esmark 1886). [In] MolluscIreland.
http://www.habitas.org.uk/molluscireland/species.asp?ID=129 Accessed on 2018-07-19.