Oxyloma (Oxyloma) elegans (Risso 1826) Pfeiffer's amber snail
Map hosted by the National Biodiversity Data Centre, Waterford
To view the species profile on Biodiversity Maps and access the live map, please click on the map.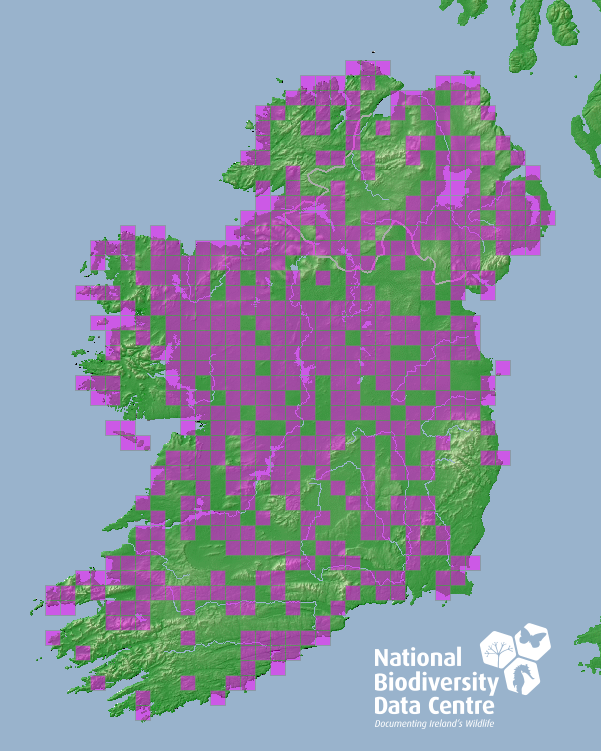 A medium-sized shell with a very large body whorl and tiny spire. Similar in shape to Succinea putris but smaller and with a shorter spire, and more laterally compressed. Animal normally dark in colour. Widespread and common.
Key characteristics
A medium-sized shell with very large body whorl
More laterally compressed than the larger Succinea putris with a more elongate aperture
Animal usually dark in colour
Shell amber in colour and with irregular radial growth lines
Size
9-12 mm.
World Distribution
Found across a great swathe of Eurasia and North America. Distribution type: Circumpolar Wide-temperate (66).
Irish Distribution
The most widespread amber snail in Ireland and recorded, often abundantly, from all areas.
Ecology
Tends to stay near the base of tall vegetation in fens, river and lake margins and damp pastures
Often seen crawling on mud or low vegetation on lake and river margins
Red List status
Wikipedia link
Wikipedia page for Oxyloma elegans
Anderson, R., (2016). Oxyloma (Oxyloma) elegans (Risso 1826). [In] MolluscIreland.
http://www.habitas.org.uk/molluscireland/species.asp?ID=128 Accessed on 2018-07-23.