Oxychilus (Oxychilus) alliarius (J. S. Miller 1822) Garlic snail
Click on the thumbnails to enlarge the images
© Dr Roy Anderson
© Dr Roy Anderson
Map hosted by the National Biodiversity Data Centre, Waterford
To view the species profile on Biodiversity Maps and access the live map, please click on the map.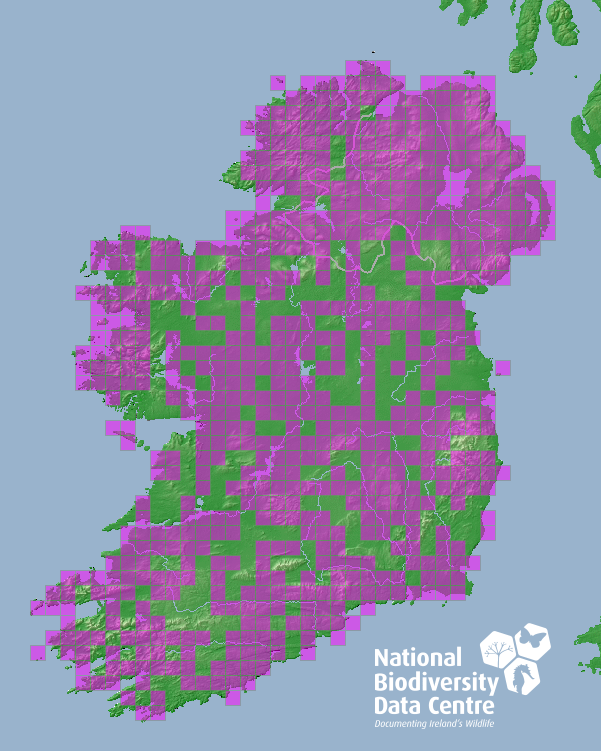 A small shell of 4-4½ slightly convex whorls with moderately deep sutures. Surface glossy and translucent, pale brown or greenish. Animal dark blue-grey, rarely pale grey, with mantle edge of the same colour. When gently disturbed the animal produces a strong odour of garlic. Very common.
Key characteristics
A small, glossy, depressed shell with a striking odour of garlic when disturbed
Whorls more convex than those of similarly sized O. cellarius
Colour pale brown or greenish translucent
Animal dark blue-grey (common) or pale grey (rare) with mantle edge of a similar shade
Size
5.5-7 mm.
World Distribution
Mainly western Europe from the British Isles across the Low Countries to north Germany and Scandinavia. Coastal in Scandinavia northwards to the Arctic Circle. Distribution type: Suboceanic Temperate (72).
Irish Distribution
Widespread and abundant.
Ecology
Common in a great variety of woodland types including conifer plantings, in litter and under bark of dead wood
Frequent in birch wood margins (lagg) of raised peat - also on upland heath
Very waterlogged soils tend to be avoided.
Red List status
Wikipedia link
Wikipedia page for Oxychilus alliarius
Anderson, R., (2016). Oxychilus (Oxychilus) alliarius (J. S. Miller 1822). [In] MolluscIreland.
http://www.habitas.org.uk/molluscireland/species.asp?ID=124 Accessed on 2018-07-16.