Omphiscola glabra (O. F. Müller 1774) Mud Pond Snail
Map hosted by the National Biodiversity Data Centre, Waterford
To view the species profile on Biodiversity Maps and access the live map, please click on the map.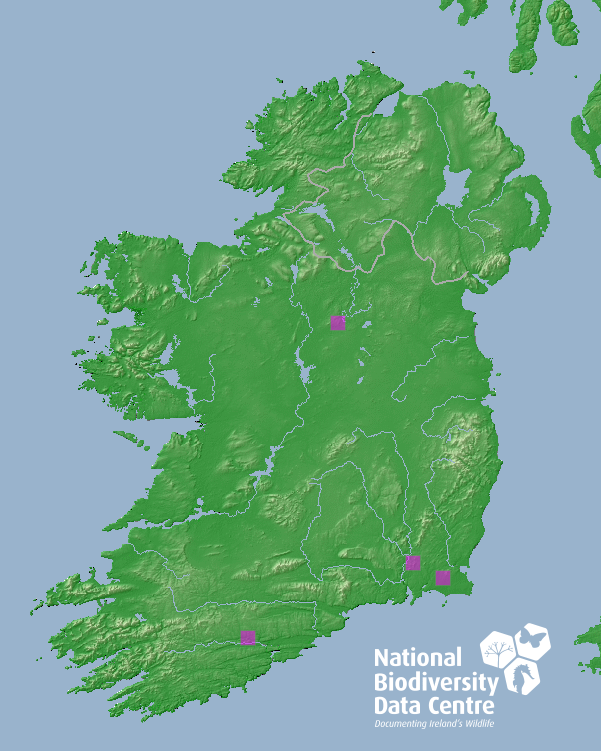 An elegant tall-spired shell with slight barreling due to the lower whorls being almost cylindrical while the upper whorls are more regularly narrowed. Surface almost matt, with very fine spiral striae. Colour brown. Very rare.
Key characteristics
A tall conical shell with small aperture ⅓ the height of the shell
Whorls moderately convex with fairly shallow sutures
Shell dull brown in colour with fine spiral striae
Size
12-20 mm.
World Distribution
Thie range extends along Atlantic coasts in Europe from southern Scandinavia to north Africa and inland to Switzerland and east Prussia. Distribution type: Suboceanic Southern-temperate range (82).
Irish Distribution
One of the rarest of Irish molluscs. Its history in Ireland is reviewed by Hurley (1981). There are several old records for Cork one of which is substantiated by specimens labelled 'Cork' in the collection of Lord de Tabley. An active colony was reported by Roche (1939) from Ballymacar Bridge, Shelmaliere Commons, near New Ross, Co. Wexford. This site has now been drained (Hurley 1981) and the colony destroyed. Recently re-discovered in Co. Waterford in a spring-fed acidic mire near Carrickavrantry (Anderson & McCormack, 2010).
Ecology
Omphiscola glabra is restricted to nutrient-poor temporary habitats in lowland areas
Much affected throughout its range by agricultural drainage of its habitats
It appears to be sensitive to nutrient enrichment (eutrophication) also
At Carrickavrantry found at the roots of Menyanthes trifoliata in an isolated, acidic, spring-fed marsh
Red List status
Critically Endangered (CR).
Wikipedia link
Wikipedia page for Omphiscola glabra
Anderson, R., (2016). Omphiscola glabra (O. F. Müller 1774). [In] MolluscIreland.
http://www.habitas.org.uk/molluscireland/species.asp?ID=123 Accessed on 2018-08-20.