Nesovitrea (Perpolita) hammonis (Ström 1765) Rayed glass snail
Click on the thumbnails to enlarge the images
© Dr Roy Anderson
© Dr Roy Anderson
Map hosted by the National Biodiversity Data Centre, Waterford
To view the species profile on Biodiversity Maps and access the live map, please click on the map.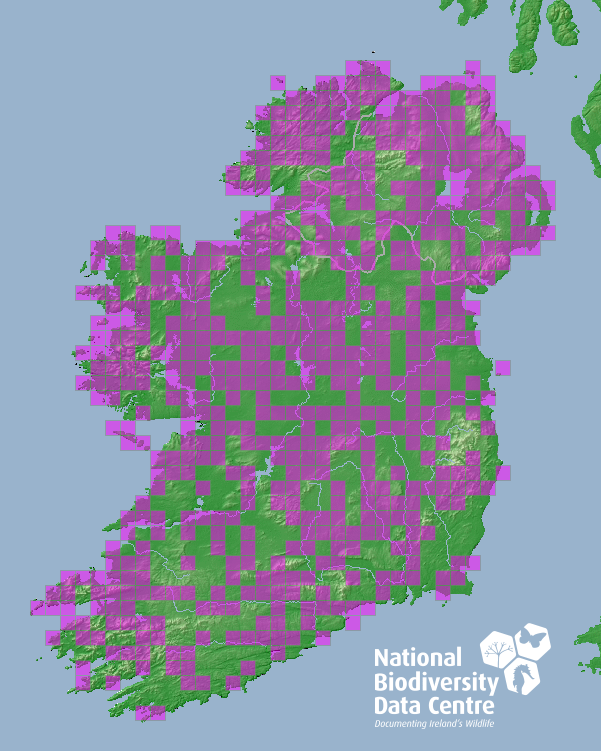 Shell a flattened, glossy coil of 3½ whorls with well-marked radial striae. Whorls flattened above with shallow sutures. Umbilicus moderately wide. Shell translucent pale brown, colourless or greenish. Animal dark. Common.
Key characteristics
A small, glossy, flattened shell with well-marked radial striae
Colour variable - translucent brown, colourless or greenish
Whorls flattened above with a shallow suture
Animal dark in colour
Size
3.5-4.2 mm.
World Distribution
Described in older works as Circumpolar but the form in North America (Nesovitrea electrina (Gould)) is now regarded as specifically distinct (Pilsbry, 1948). Range therefore Eurasian Wide-temperate (65).
Irish Distribution
Ubiquitous in woods and wet places.
Ecology
Common in wet places in woods
Also in unimproved pasture, heaths and marshes
Tolerant of soil acidity and one of the few shelled molluscs found on blanket peat and at altitude
Red List status
Wikipedia link
Wikipedia page for Nesovitrea hammonis
Anderson, R., (2016). Nesovitrea (Perpolita) hammonis (Ström 1765). [In] MolluscIreland.
http://www.habitas.org.uk/molluscireland/species.asp?ID=122 Accessed on 2019-04-20.