Milax gagates (Draparnaud 1801) Jet slug
Click on the thumbnails to enlarge the images
© Dr Roy Anderson
© Dr Roy Anderson
Map hosted by the National Biodiversity Data Centre, Waterford
To view the species profile on Biodiversity Maps and access the live map, please click on the map.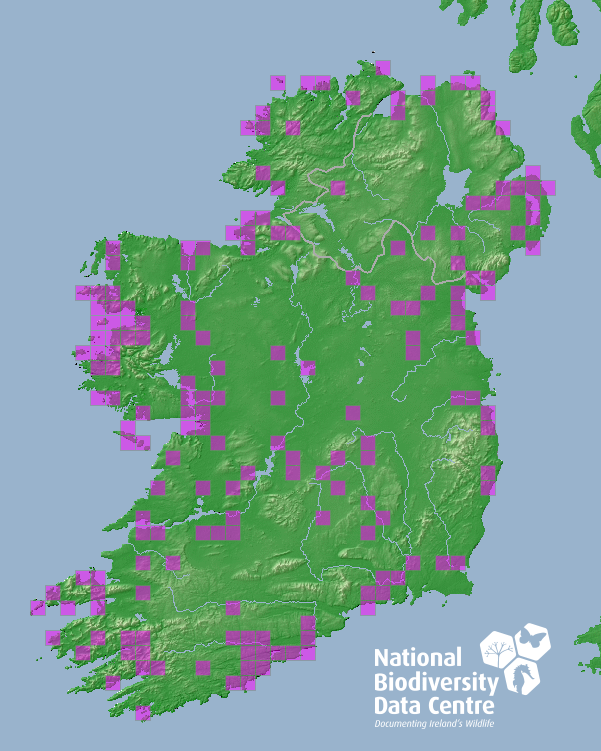 A medium-sized, bluish-grey to brown or nearly black slug with same-colour or darker keel running from the mantle to the tail. No lateral bands or pale respiratory orifice. Sole whitish or brownish. Mucus colourless. As in other Milacidae the mantle is marked with a deep horseshoe-shaped groove. Widespread.
Key characteristics
A medium-sized unspotted slug with conspicuous keel and deep groove on the mantle
Colour bluish-grey to brown to dark grey without spotting and with a keel mostly of the same colour but sometimes darker
Mucus sticky, colourless
Keel runs from the rear of the mantle to the tail
Mantle granulate and with a deep horseshoe-shaped groove
Size
45-55 mm.
World Distribution
Found from the western Mediterranean north to the British Isles. Distribution type: Suboceanic Southern-temperate (82).
Irish Distribution
Widespread but possibly declined in central Ireland to judge by the number of unconfirmed older records. Most recent records are for coastal habitats. Has a tendency to disappear from established sites from time to time.
Ecology
The only species of the Milacidae which is likely to be native, though found in disturbed places and a sporadic pest in gardens
The usual habitat is coastal grassland and rocks.
Known as a pest on root crops such as potato
Red List status
Wikipedia link
Wikipedia page for Milax gagates
Anderson, R., (2016). Milax gagates (Draparnaud 1801). [In] MolluscIreland.
http://www.habitas.org.uk/molluscireland/species.asp?ID=118 Accessed on 2018-07-23.