Mercuria cf. similis (Draparnaud 1805) Swollen spire snail
Click on the thumbnails to enlarge the images
© Dr Roy Anderson
© Dr Roy Anderson
Map hosted by the National Biodiversity Data Centre, Waterford
To view the species profile on Biodiversity Maps and access the live map, please click on the map.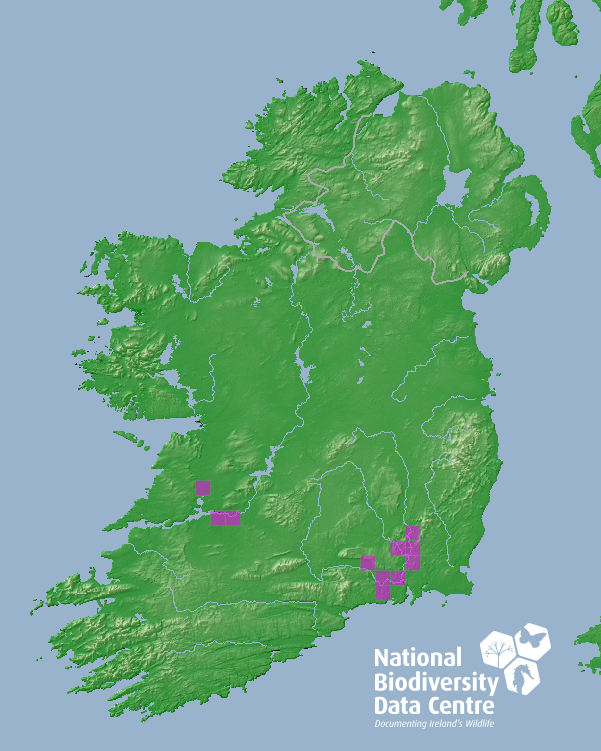 A hydobiid mud snail, small, operculate but relatively low-spired, with a large body whorl compared to other species. Shell fragile, translucent yellow-white but often coated with dark deposits and animal entirely pale. Rare, usually in the upper part of the tidal range in estuaries and in fresher water than Assiminea.
Key characteristics
A small, hydrobiid snail with a proportionately larger body whorl than other hydrobiids
Shell dull, yellow-white but often coated with a darker deposit
Animal uniformly pale and tentacles pale
Size
3-4 mm.
World Distribution
Ranges along coasts from southern and western Ireland and south-eastern Britain to the western Mediterranean. Distribution type Suboceanic Southern Temperate (82).
Irish Distribution
Known since the nineteenth century from Waterford Harbour (Rivers Suir, Nore and Barrow) and the Shannon Estuary (Stelfox, 1911). Its distribution in Britain is centred on the Thames Estuary and the south-east coast where it appears to be in decline due to disturbance or pollution of its preferred habitat (Kerney, 1999). In Ireland there appears to be little change with the species still fairly common in its Shannon Estuary sites on the R. Maigue, Limerick, R. Fergus, Clare and Shannon contributaries near Limerick (Colville, 1992; R. Anderson, pers. obs.) and at least some of the sites in Waterford Harbour, including the Blackwater contributary to the Nore and sites on the Barrow at Ballnabola and Mount Garrett Bridge (pers. comm. of D. Holyoak)
Ecology
In Britain Mercuria associates with freshwater species such as Potamopyrgus antipodarum, Bithynia tentaculata or with lymnaeids and planorbids in nearly fresh conditions (Fretter & Graham, 1978)
At the Shannon sites it is found on glutinous calcareous mud on the margins of tidal streams with a mixture of freshwater species including Galba truncatula, Lymnaea fuscus, Potamopyrgus antipodarum and the amphibious species Oxyloma elegans and Deroceras laeve
Taxonomy
The correct name for this taxon is by no means certain. There is little doubt that Mercuria confusa (Frauenfeld) is closely related to Mercuria similis (Draparnaud 1805), a common Mediterranean freshwater species. Giusti (1979) and Giusti et al. (1995) argue that the numerous 'species' of Mercuria claimed for Mediterranean habitats are at best geographical subspecies, at worst merely demes, of one variable taxon. Their inference extends to the Atlantic/west Mediterranean form confusa which may well turn out to be synonymous with similis and consequently to have a Mediterranean-Atlantic distribution like the hydrobiids Hydrobia acuta and Ventrosia ventrosa. If the Atlantic and Mediterranean forms are synonymous then similis (Draparnaud 1805) has page priority over anatina (a name applied to British populations by Bank et al. (2007)) in Draparnaud's monograph.
Red List status
Wikipedia link
Wikipedia page for Mercuria similis
Anderson, R., (2016). Mercuria cf. similis (Draparnaud 1805). [In] MolluscIreland.
http://www.habitas.org.uk/molluscireland/species.asp?ID=116 Accessed on 2019-04-20.