Lymnaea (Lymnaea) stagnalis (Linnaeus 1758) Great pond snail
Click on the thumbnails to enlarge the images
© Dr Roy Anderson
© Dr Roy Anderson
Map hosted by the National Biodiversity Data Centre, Waterford
To view the species profile on Biodiversity Maps and access the live map, please click on the map.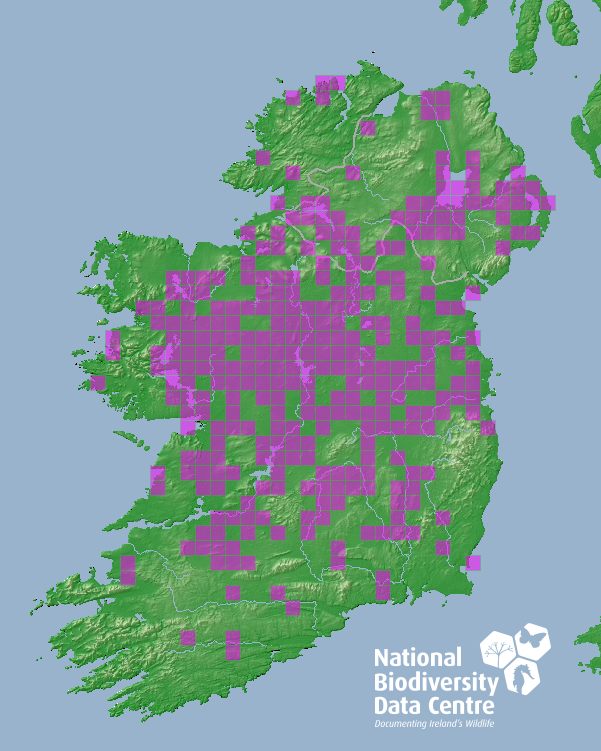 A large shell with massive body whorl and small, relatively sharp spire. Surface smooth, slightly shiny, lacking the distinct spiral striae of related species. Despite its size, the shell is rather fragile. Colour pale brown. Common in large water bodies.
Key characteristics
A large shell with massive body whorl and much narrower, sharp spire
Surface smooth, not glossy, with little in the way of growth ridges and only very fine spiral striations, or none
Size
35-45 mm.
World Distribution
Found across Europe and Siberia to the Pacific. Also across northern North America. Distribution type: Circumpolar Wide-temperate (66).
Irish Distribution
Common in the central plain and larger river basins but considerably scarcer in the west and extreme north.
Ecology
This large species prefers sizeable habitats and relatively still water of larger rivers and lakes
Mostly found in deeper and harder water than its congeners except the ubiquitous Radix balthica
Frequently sold in garden centres and introduced to garden ponds
Red List status
Wikipedia link
Wikipedia page for Lymnaea stagnalis
Anderson, R., (2016). Lymnaea (Lymnaea) stagnalis (Linnaeus 1758). [In] MolluscIreland.
http://www.habitas.org.uk/molluscireland/species.asp?ID=109 Accessed on 2018-07-20.